Game Heroes is about to end this weekend. If it was a big audience success, something surprised us : we first thought that our core audience was the generation of the 30 or 40 years old, but actually , this exhibition talked to many different kinds of audiences and mainly to children and teenagers.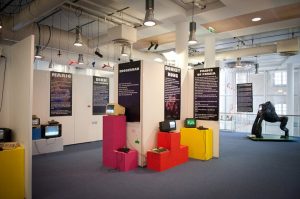 Surprisingly, they weren't disappointed by the old style of consoles and computers, nor by the pixellised style of images. A lot of the youngsters of the area came every day, like if it was a « deluxe gaming room « .  But for sure, a space for them!
They were perhaps a bit surprised by the game play and by the idea of playing different short levels, one of them told me : »It is already finished ! It is very short ! » but I answered : « You just finished the first level, if you want to win you have 89 levels more to play ! »
The audience in Marseille reminded me Gameplay, an exhibition that was held in Itau Cultural and curated by Roberto…. All the children from the favellas were there, playing all the day. Quite the same in Marseille, as the library is really in the middle of  a quite poor area in Marseille (even if we are super far from the favellas idea !)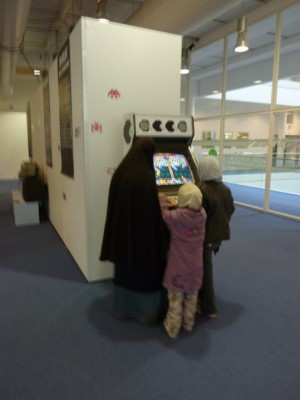 I was quite amazed to look at Young muslims, covered, playing to Tekken or Double Bubble… and when we animated a machinima workshop Inside the exhibit with Emmanuel Mayoud, 45 teenagers participated in 3 hours with a lot of energy, pleasure and curiosity. One of the avatars created by a Young girl was dressed with a short skirt, a short t-shirt but covered and we directed a very short movie with another girl, that was telling the story of – I guess – her father, who escaped from the prison as he need to stay some 128 days left. Meeting of imaginaries, of cultures around games.