Exhibition antiAtlas of borders Part II, @ la compagnie, Marseille 13 dec. 1st march 2014
An innovative approach to the transformations of the reality and experience of borders in the 21st century. Exhibition at la compagnie – creative space in Marseille from 13 December 2013 to 1st March 2014.
Opening on 13 December at 6pm.
The exhibition will be open to the general public between 3 and 7pm Thursday-Saturday. Appointments only for group and other visits.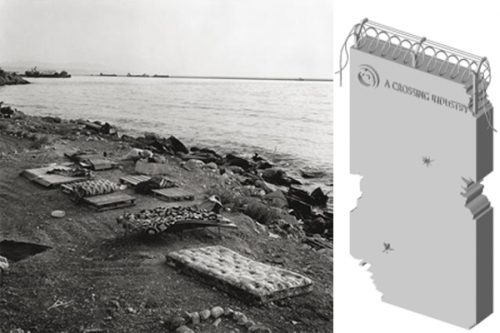 The antiAtlas of Borders programme offers a unique approach on the mutations of control systems along land, sea, air and virtual states borders at the crossroads between research, art and practice.
The programme was launched on 30 September 2013 in Aix-en-Provence by an international conference and by an exhibition at the Museum of Tapestries. It now continues with a second exhibition at the la compagnie – creative space. The website antiatlas.net on the whole initiative is already online and the launch of a dedicated publication will close the programme later in 2014.
The antiAtlas of Borders is jointly organized by the Institut Méditerranéen de Recherches Avancées (IMéRA), the École Supérieure d'Art d'Aix-en-Provence (ESAA), the PACTE Research Centre (University of Grenoble-CNRS), la compagnie-lieu de creation and Isabelle Arvers (independent curator).
more…
say something