Last year, I invited Ahmed El Shaer at la compagnie, a creation center in Marseille, to conduct with me a machinima workshop on borders and migration. He is the author of the machinima "Under Examination" about the borders between the real and the virtual world and he conducts machinima workshops in Egypt. So it was natural for me to invite him in the frame of the antiAtlas of borders exhibition. We were so satisfied of our first collaboration that we decided to go further and to open a succursale of my non profit organization – Kareron – in Egypt.
In this context, Ahmed invited me to come this year in Egypt in order to give a workshop together at the Fayoum Art Center. We were supposed to stay there one week, but finally things happend differently and Ahmed organized a whole trip towards the north of Egypt: we first spent 3 days in Fayoum, then we went to Cairo to the Fine Art Faculty, then we stayed 2 days in Alexandria, one at the Fine Art Faculty and the second day at l'Atelier. Every day a workshop or a lecture, each time with great particpants and hosts. Ahmed succeded to organize a real egyptian machinima tour, it was amazing!

At my arrival in Cairo, we directly drove on the highway through the desert to Fayoum and arrived in Tunis village, a pottery village in El Fayoum. I immediately enjoyed the Art Center of Fayoum, created by the artist Mohamed Abla. The Fayoum art center hosts workshops during its Winter Academy as well as artists in residence who can benefit form the magic of the place to spend one or two weeks to create. Mohamed Abla showed me its caricatures Museum and it was quite awkward for me to see all these caricatures (most of the times about politics, social facts and war) after what just happend in France…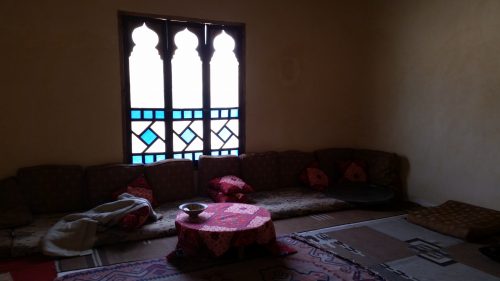 Then I discovered the amazing place where we would give the workshop and I spent the entire afternoon, showing different styles of machinima and game artworks, as well as many different independant games.The audience was mainly artists in residence at the Art Center.
The second and third day were dedicated to the direction of machinima. Marwa Abd El Monem, who is a painter and an animator, is working on western fairytales. She decided to work on Blue Beard in Moviestorm. The other artist from Cairo Marwa Saad is also a painter and has a serial on urchins and rats. She wanted to integrate her paintings inside her machinima while proposing a monologue on rats.. Sometimes, there were electricity shutdowns during which we were getting back to more traditional practices like painting or watercolors!
After these 3 wunderful days, we left Fayoum under a sand storm and drove to Cairo as the day after we were invited by Eman Abdou who coordinated the entire day, to give a lecture on "Games as colors on canvas" to students of the Fine Arts Faculty in Zamalek. We were supposed to have only four students in the workshop, but after the lecture, all the attendants decided to stay for the workshop and we spent an afternoon doing machinima and answering questions for a documentary, shot by Fayza Ahmed Harby and the electronic musician Amgad Charkawii.Ssome machinima began to be created by Karim Haddad who also began to produce an artgame as well as by Ibrahim El Sayyad.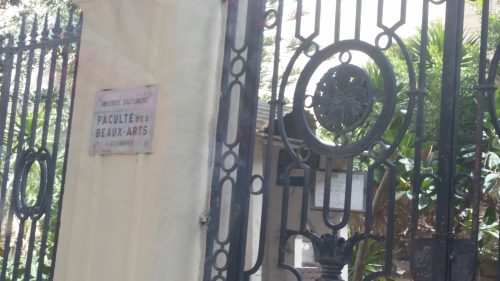 The day after, we drove north to the sea side and arrived in Alexandria to give a lecture/workshop on game art and machinima at the Fine Arts Faculty, a day coordinated by Adel Moustafa. The day after we were invited at l'Atelier to give first a workshop, then a lecture on game art and machinima, invited by Reem Hassan, a painter, actually in residence for one year at l'Atelier who coordinated the whole day. I was quite amazed by the quality of the participation to the workshops, a bit surpised to have most of the times women in the workshop, but so hapy with their curiosity and enthousiasm for game art and machinima. This is how ended the marathon, but for sure new things will happen in the future in Egypt!