An innovative approach to the transformations of the reality and experience of borders in the 21st century. The antiAtlas of Borders presents collaborative works between hard sciences researchers, social sciences researchers and artists. It produced two unique transdisciplinary works: Samira, an ethno-fiction by Nicola Mai, filmmaker and ethnographer, and a video game on border crossing, A Crossing Industry, which was created by the hypermedia atelier of the Ecole d'Art d'Aix en Provence under the direction of Douglas Edric Stanley drawing on the fieldwork of the anthropologist Cédric Parizot.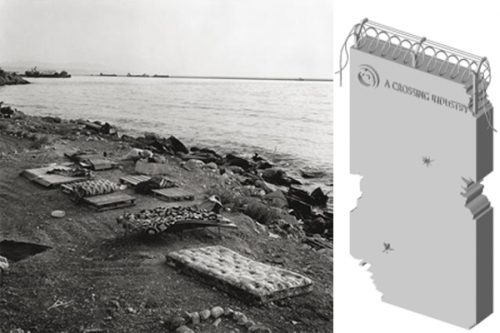 The exhibition at the compagnie follow the one at the Museum of Tapestries (online pictures: www.antiatlas.net/musee-des-tapisseries) offering multiple levels of engagement: visitors will enter a transmedia documentation space and participate in interactive, artistic and transdisciplinary artworks. They will interact directly with video games, wall images or installations created by international artists: Masaki Fujihata associates computer generated imagery with GPS data in order to represent the topographic and temporal coordinates of borders; Kenneth Rinaldo intersects drones with hoovers in the context of a robotic artwork evoking the intrusion of securitizing technologies into the private domain (an exclusive creation for the antiAtlas). We emphasize the dimensions of engagement and participation in order to mirror and show the degree to which we are all directly concerned by the transformation of borders. The public will have access to interactive maps and will be able to participate in workshops on video game diversions regarding these issues. We are also organizing evening screenings and debates on issues including the border economy, border fictions, the camp of Rivesaltes and many others.

Exhibition Curator: Isabelle Arvers
Photos : Myriam Boyer
Artists and Researchers:
Ken Rinaldo, Drone eat drone: American scream, 2013
Collectif DAAR, Decolonizing Architecture, 2012
Boats 4 people & Forensic Oceanography, Watch the Med, 2013
Migreurop, Carte dynamique des étrangers détenus aux frontières des États, 2012
Stephanos Mangriotis, Europa Inch'Allah, 2009 – 2010
Nicola Mai, Samira, 2013
Jeu vidéo de l'Atelier hypermédi ESAAix, 2013
Masaki Fujihata, Field Work@Alsace, 2004 – 2005
Soirée économie de la frontière : Lucas Bambozzi, De outro de lado, 2004
Soirée fiction de la frontière : Alex Rivera, Sleep Dealer, 2008
Soirée sur le camp de Rivesaltes : films de Till Roeskens (2005), Serge Lesquer (2009), Claire Angelini (2011)
Atelier jeu et machinima avec Isabelle Arvers et Ahmed El Shaer, 2013
A call for artworks was launched by the antiAtlas of Borders that saw the participation of more than 330 artists. We selected for the exhibition at la compagnie the film Korea by the artist Jiro Yun, which will be the first public presentation of the wider project encompassing the film. More artists who responded to our call will be included in the evening events, the documentation centre and the on line gallery of la compagnie.
Scientific and Artistic Committee:
Cédric Parizot – project coordinator, anthropologist, IMéRA, Institut de Recherche et d'Études sur le Monde Arabe et Musulman (IREMAM – AMU/CNRS), Aix en Provence
Anne-Laure Amilhat Szary – geographer, Laboratoire Pacte, Université J. Fourier, Grenoble
Thomas Cantens – anthropologist, Centre Norbert Elias (EHESS), Marseille, World Customs Organisation, Bruxelles
Jean Cristofol – philosopher, École Supérieure d'Art d'Aix-en-Provence (ESAAix)
Paul Emmanuel Odin – art critic, ESAAix, la compagnie, Marseille
Nicola Mai – filmmaker, ethnographer, Laboratoire LAMES, AMU and London Metropolitan University, London
Joana Moll – media artist, Barcelone
Antoine Vion – sociologist, economist, Laboratoire d'Économie et de Sociologie du Travail (LEST- AMU/CNRS), Aix-Marseille Université
The antiAtlas of Borders programme offers a unique approach on the mutations of control systems along land, sea, air and virtual states borders at the crossroads between research, art and practice.
The programme was launched on 30 September 2013 in Aix-en-Provence by an international conference and by an exhibition at the Museum of Tapestries. It now continues with a second exhibition at the la compagnie – creative space. The website antiatlas.net on the whole initiative is already online and the launch of a dedicated publication will close the programme later in 2014.
The antiAtlas of Borders is jointly organized by the Institut Méditerranéen de Recherches Avancées (IMéRA), the École Supérieure d'Art d'Aix-en-Provence (ESAA), the PACTE Research Centre (University of Grenoble-CNRS), la compagnie-lieu de creation and Isabelle Arvers (independent curator).
La compagnie – creative space continues an experience of welcoming and creating transdisciplinary exhibitions that travel and cross borders. It offers an exhibition space dedicated to the presentation of contemporary images (past events include large installations by Gary Hill and Thierry KuntzelI and the photos by Myr Muratet). The space was renovated by the world-acclaimed architect Rudy Ricciotti in 1996.
Exhibition at la compagnie – creative space in Marseille from 13 December 2013 to 1st March 2014. The exhibition will be open to the general public between 3 and 7pm Thursday-Saturday. Appointments only for group and other visits.
Many evening events, amongst which:
Border Fictions: film by Alex Rivera, Sleep Dealer, 2008
Le Camp de Rivesaltes: films by Till Roeskens (2005), Serge Lesquer (2009), Claire Angelini, 2011
Border Economy, film by Lucas Bambozzi, De Outro Lado do Rio/Across the River, 2004
Atelier Games and Machinima with Isabelle Arvers et Ahmed El Shaer
Internet Site: www.antiatlas.net
The Internet site of the antiAtlas of Borders has been designed as an online extension of the two exhibitions and includes different resources: the online guide, researchers' interviews, maps, research articles, etc. It also provides access to net.art works and to online artworks. The site will also be an archive documenting the antiAtlas programme for the general public, artists, researchers and people working in institutions.