Gamerz Festival #7 – ARCADE, Aix-en-Provence, November 2011
Machinima program, curated by Isabelle Arvers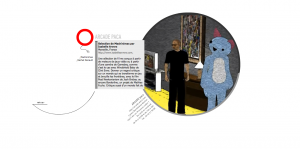 A selection of films made from video game engines or from a Game Boy camera, as it is the case with Windshield Baby by Clint Enns. To give a critical look at a world that turns into a game and blurs the boundaries, with the film Newtonianism Post by Josh Bricker, or Borderline, a game project by Mathias Fuchs. A critic of a world of emptiness with the Secret Confessions by Systaime which takes dialogues of reality TV to create machinima or the Moviestorm machinima audition tape, by the digital punk artist Jon Cates who remix extracts from the software Moviestorm with theory around seduction or game culture.
Are the games violent or is it the reality that is violent? Do video games make you stupid or is it just the revealing of a new moral panic? Through the video Same as it ever was, Tyana Nguyen shows that video games are victims of the same criticisms that the earlier film or television. A new medium is always criticized when it first appeared, and then be praised.
The machinima can be used to better understand what the game is and how players reclaim the game to create their own maps, worlds and characters through editors and game mods. The episode of This Spartan Life, a talk show produced by Chris Burke in the game Halo welcomes designers of the maps with the mod Forge of the game Halo to explain their job. The Leet World is ranked in the so-called movies, a genre first appeared in 2005 according to y Killian Frangu which is for players of Counter Strike to show their skills in games using clips and special effects. The Leet World is a Movie somewhat apart in the category that allows humorous approach to the game and the skills to play. This also shows Gmod The Idiot Box, a series of absurd and hilarious gags designed DasBoSchitt from Garry's mod, Half Life game's mod.
Same As It Ever Was, Thuyan Nguyen, 2008
"Same As It Ever Was" is a short machinima film in defense of video games. Two news anchors try to deliver a special report on the biggest threat to society today. Unfortunately, they have some communication issues, because the "threat" that one anchor describes sounds a lot like some other "threats" from days past.The use of machinima, the artificial characters and the robotic voices were all specifically used to emphasize the message that today's anti-game arguments are simply mindless repetitions of arguments that were used against previous societal scapegoats, like music and movies.

Windshield Baby Gameboy Movie, Clint Enns, 2009
Images of a car crash are digitally interpreted using a Nintendo Gameboy Camera. This video is an attempt to demonstrate the inherently dehumanized nature of digital images.
Windshield Baby Gameboy Movie. Clint Enns takes footage of a car crash, loops it and processes it through a Game Boy camera — pushing the image to the limits of digital abstraction, and flattening the horror of a baby's violent death into a cloudy spray of pixels.

windshield baby gameboy movie from clint enns on Vimeo.
The Masters of Forge, This spartan life Episode 8, Bong Dern Prod, 2010
On this episode of This Spartan Life, Damian Lacedaemion hangs out with petetheduck, Downkated, WraithDawg, and B0ANERGES, checking out some of their incredible Forge maps which will test his speed and skill with a controller. Can Damian and his co-host Fyb3roptic navigate these tricky spaces? Watch to find out and learn more about how these masters of Forge imagine and build their amazing creations.

Moviestormmachinima audition tape, Jon Cates, 2009
Moviestorm Machinima Audition Tape jon cats 2009 finds me remixing the Moviestorm Machinima authoring software with bootleg audition tapes leaked on the internet and critical theories of Gaming, Algorithmic Culture, Seduction and Enchanted Simulation.

MOVIESTORM MACHINIMA AUDITION TAPE – jonCates (2009) from joncates on Vimeo.
The G-Mod Idiot Box (Series, Half-Life 2), DasBoschitt, 2009.
Garry's Mod is a sandbox mod for the Source Engine. Unlike normal games there aren't any predefined aims or goals. Players are given tools and are left to entertain themselves. The player is in a world where objects can be created and destroyed on demand. DasBoShitt is the master of everything Garrys Mod and Creating a comedy Gmod T.V series Masterpeice called The Gmod Idiot Box. consists of a mashup of skits per episode that runs the gamut from awesome to hilarious to just plain absurd; they're created using the titular video game mod and set to all manner of wonderful sound clips and effects. Recurring favorites include: Gmod Idiot Box episodes always starts off when DasBoShitt is creating hes new Gmod Idiot Box épisode and various Youtube annoyances.

Borderline, Mathias fuchs, 2010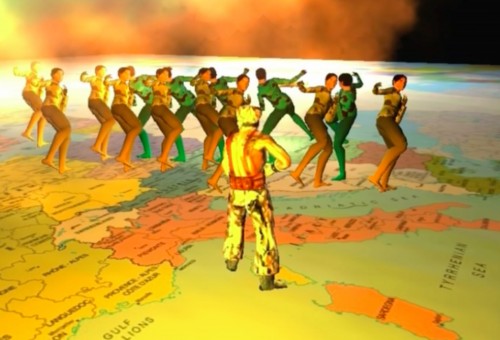 The machinima "borderline" is shot from a First Person Shooter level – staged on a European map with political hot-spots marked by particle effects. "Europe" is in this game the wider area of the EU and the North African Mediterranean countries, Turkey and the Near East. Borderlines are socio-political constructs formed in a historical process and they define allegedly ethnic or political entities, but at the same time they are often conflict loaden, irrational, inconsistent, and  arbitrary.
http://creativegames.org.uk/art/streaming_media/index.htm
Josh BrickerPost Newtonianism (War Footage/ Call of Duty 4 Modern Warfare Footage), 2010
This piece is a two channel video with sound. The video on the left consists of a loop of actual war footage taken from cameras mounted on American military aircraft, from both airplanes and helicopters. Taken during the first Gulf War in 1991, and the current occupation of Iraq the footage shows the bombing of vehicles, military targets as well as the shooting of insurgents and oppositional forces. In contrast the footage on the right is from the popular video game "Call of Duty 4: Modern Warfare". The sound track is a mixture of audio taken from the video game and the footage released by Wikileaks approximately two months ago in which the US military killed two reporters working for Reuters as well as a number of unarmed civilians.

Confessions secrètes, Systaime, 2011
"Confessions secret" the new series of Machinima Systaime the artist uses the dialogues of films, interviews, JT, TV shows and adapted them into a Machinima version.
In the first episode and the second we can recognize the dialogues of the reality show "Secret Story" of Tf1. The beginning of a beautiful series experimental, surreal, progressive, subversive, funny and enigmatic.

The Leet World, Smooth Few Films, 2007
In The Leet World, a Machinima based in Counter-Strike: Source, 4 CounterTerrorist's and 4 Terrorist's are placed in a house together and we see what happens when they stop being noobs… and start acting leet! In this first episode of the reality show, it's the first week of The Leet World, and everyone is learning more about their place in the house. But the team leaders have decided that things aren't quite up to par, and that something needs to be done… How will the contestants respond?