Médiathèque de Meudon La Forêt – 27 nov.-5 dec. 2007
Game art exhibit
Because power is based on violence , children play at war . Because the world is in a constant virtualization, inside the images and information flow, artists borrow codes from video game to mirror a reality increasingly illusory.
The exhibition ing Playto real presented in Meudon in December 2007, provides a vision of the relationship between art and video games and put the real into the perspective of video and computer games. The minimalist installation by the artist Damien Aspe – Russia with fun – is a wall of volumes representing the famous game Tetris invented by Alexey Pazhitnov in 1983. It has been said that this game was one of the most powerful weapons of the Eastern bloc against the profitability of capitalism in the West … Reflecting a time when the fate of the world hung by a red button , that of nuclear weapons. In a daily log , Quentin Destieu , Romain Senatore of Dardex – Mort2faim perpetuate work reappropriation / recycling objects surrounding us with Camping Station. A "station" which transforms the audience into DJ and VJ.
Mathias video of the French artist Yann Groleau, plays its part, the elliptical narrative in a completely redesigned a player massively multiplayer World of Warcraft interview. A young man that looks like a young person tells his fights with an ax , knife with merchants or virtual enemies and tells how he separates his women by killing them . The gap between the ultra violent speech and image of the young man is amazing.
From Russia with fun, Damien Aspe, 2007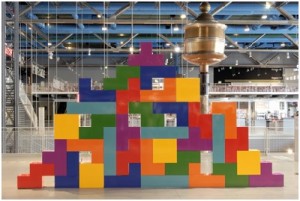 35 elements in mdf with varying sizes representing Tetris, the work of Russian Alexey Pazhitnov.
Camping Station, Dardex – M2F, 2007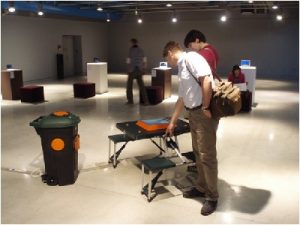 Camping Station is a minimalist interface between techno video and sound, carried out in 2007. It is a camping table which can be folded up and transported, equipped with 4 push-buttons and a flat screen. It works with a tuning bin made into a heavy sound system. It is a playful installation which takes up the aesthetic codes of several generations, combining design and recycling, half-way between the camper of the 70's and techno-culture of the 90's. The audience is invited to make a technomix, to compose with partners and in this way to become D.J and V.J virtuosi.
Play All, Vittoria Polatto, 2008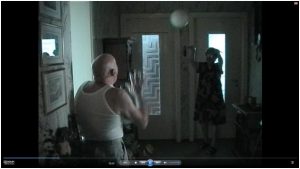 A video that plays on the difference between bitter sweet game and reality.
Mathias, Yann Groleau, 2007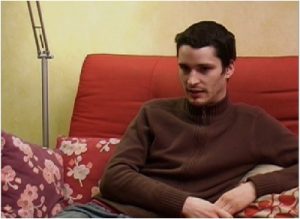 The video called ''Mathias''plays ellipses in an interview entirely redesigned, of a video game player to MMO.
Samorost, Jakub Dvorsky, 2003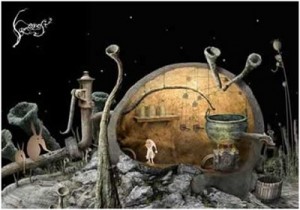 Samorost is a series of independent video game adventure point-and-click, developed by Czech studio Amanita Design. The word "Samorost"comes from the Czechand designate a piece of wood or root of a strange appearance, which may be recalled as a créature. It may also appoint someone who doesnot care about the rest of the world, as the game character, an elf who lives alone with his dog on a small planet.