The day after which was an holy day, I was invited by Kareem Negm, an egyptian architect who just spent 5 years in Dubai and began the Master of Digital Media 5 weeks ago.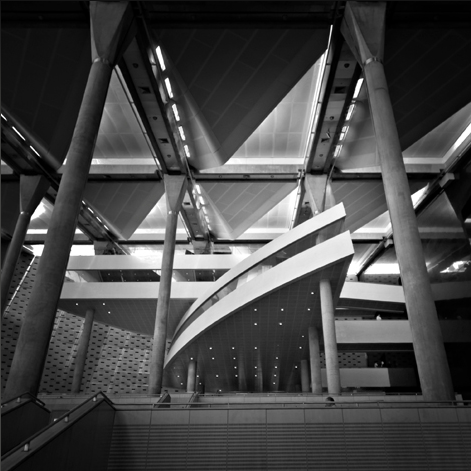 We had a nice walk downtown, and had a Corona beer together. It is how I better understood all the classes the students are taking at CDM: Visual Story, Client Management, Ethics in Law, Digital Media Foundations. And also how students' skills and backgrounds are diverse and complementary: from architecture, to mecatronics, to finance, economy, graphic design, computer science, game design, programming, etc… Kareem also explained me that there is a Gym at CDM and a boot camp twice a week, which I experienced on the next Wednesday with a lot of pleasure (but super intense and then I was Dead !). He also explained me his goals for attending this Master as an architect who refers his work To Oppenheim architecture.
On the second day, I went down the CDM building to introduce myself to everybody and met Patrick Pennefather, a former clown who is now teaching with Larry Bafia how to behave with clients, but also how to be self confident, how to work and understand body language… The title of the course is Interdisciplinary improvisation. After a quick talk to Jeannette and Richard to tell them how much I was well welcomed, I went back to Larry Bafia's class – Project 1 -and attended a team presentation by Justin Eddy and Kareem Negm. They had to give a feedback on there first client meeting with a company who wants an interactive wall for a sustainable building. This presentation was very professional but also very fun and clever. Here are some shots to explain how they used the tools they learned in Larry's class (the 5 Why's, post it, mind maps, etc), what was the main problems they had to face, what happened well, their takeaways from this experience. At the end, after 4 hours of meeting, here is a picture of how they felt.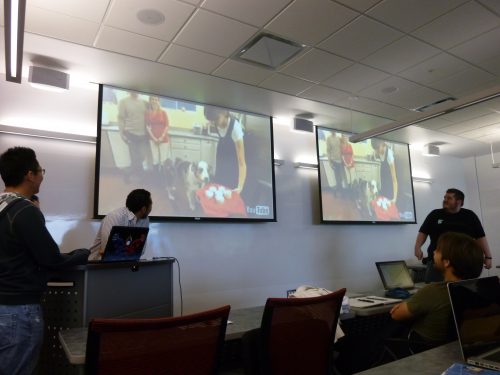 I really enjoyed this presentation and it confirmed to me the high level of this Master.
I was then invited to a staff meeting by Richard and met all the other professor of the CDM. This is a weekly meeting to get the main positive points on how is happening everything and also to share the main points to correct. Again, I was well welcomed by every professor who tried to integrate the idea of machinima in each of their course, which amazed me, because I found them very flexible and opened to integrate something new in their program that is already full.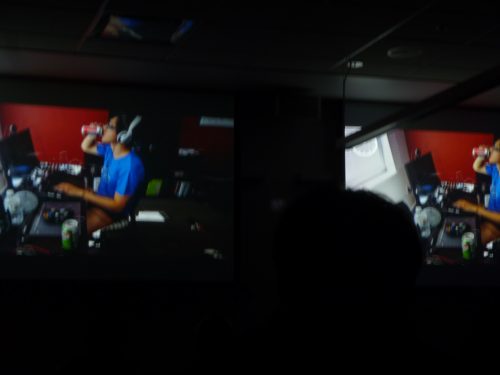 Then I attended George Johnson class on The Visual Story and had the pleasure to see some of the short films directed by the students created from pictures. The first presentation I saw was about "Loss" and the students decided to take this thematic with a certain sense of humor: loss of socks, loss of virginity, loss of reality, and the Great Lost!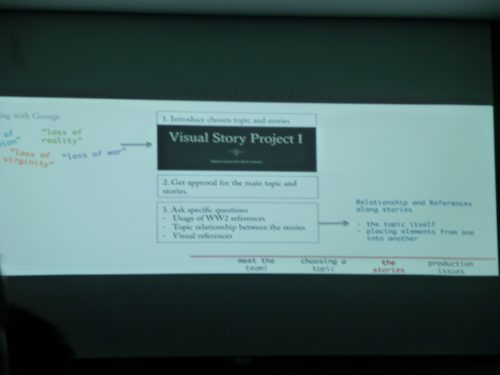 For this project each team had to show their movies and to explain – again – how they succeeded or felt in their projects: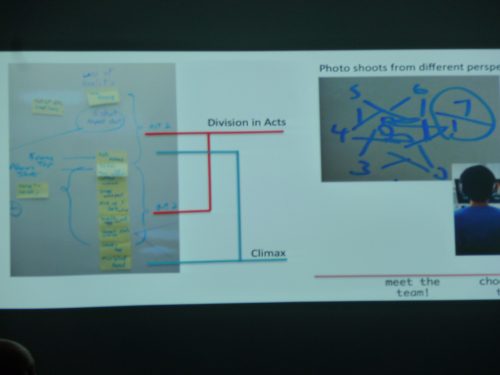 how they made choices, how was the work between each member of the team, the type of story they chosen, how stories were inter-connected to each other, the technical matters and skills and again their takeaways.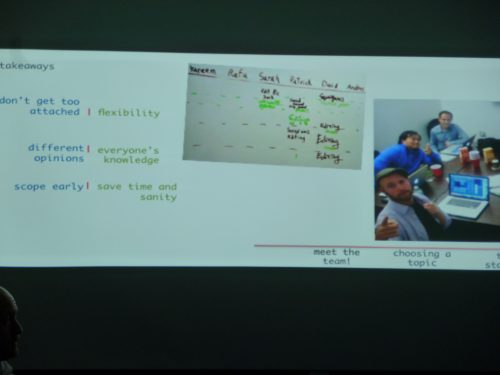 Each team had 20 minutes for that and again I had a lot of fun to watch this presentation which was clever as well.
Then I had some meetings with each professor to see how they could integrate in their course machinima in the most appropriate way: in the course of Digital Foundations, given by Richard Smith in collaboration with Jon Festinger who gives lectures about Ethics in Law, we decided with Jon, that I will give a lecture on IP & Machinima, just after a course he would give about IP matters on derivative works, fair use, etc.. With Kimberly Voll, we decided to integrate machinima in her course of Interactive rapid prototyping, after a short introduction/reminder of what means storytelling, I will introduce very quickly to second year Master students what machinima are and how it can be done and then students will have to rapid prototype a machinima story.