Bonlieu's National Scene
Annecy, march 21 – 24 2007
Young digital swiss creation: animation, video and interactive installation
This exhibition was conceived in the frame of La belle voisine, a cultural exchange program between France and Swiss. I curated an exhibition of swiss animation, video and interactive installations in order to present the very dynamic and emrging swiss creation. Among the animation and interactive installations, all the videos were presented on a huge cube placed in the middle of Bonlieu, the creation scene of Annecy.
Signs, Patrick Tschudi, 2006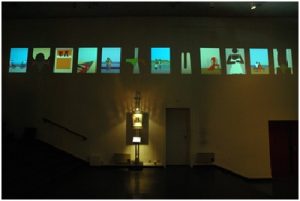 "Signs" is rooted in elements from the world, nature, man and society itself. Representations come to live as pure ideographic figures in an urban space. Significations are shown under a simplified and synthetic, formal language. As a background of this effort there is an equalization of all things and events in an atonal perspective of our contemporary-industrial society. An eminently critic and despair purpose from which the esthetic and often humorous values go far beyond a simple statement on politic ethics.
La Tronçonneuse, Angela Marzullo, 2004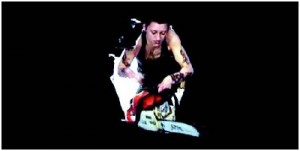 In this video performance transposed into interactive installation, the status of the wall projection is facing a projected image of an identical wall pierced with a chainsaw. A surveillance camera detects the position of the viewer, so that the image is always facing him.
Bubblecars, Collectif-Fact, 2007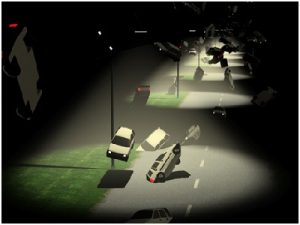 Setting : a long road, a few street lamp, one is flickering to increase the « suspense » aspect. An atmospheric space that refers to the artificial universe of Hollywood. By using only the elements necessary for its understanding, this environment looks like a lot images conveyed by American movies.
Circus, Collectif-Fact, 2007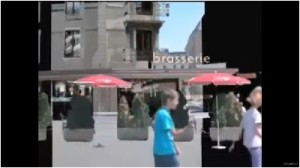 The circus project considers the construction of space in a particular way. The installation shows a view of the city inconstant motion that seems to disintegrate. Pieces of urban architecture, logos
Strange Fire, Sylvie Fleury, 2005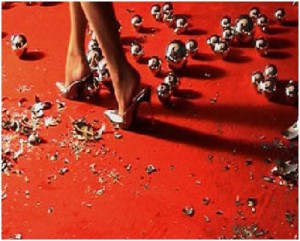 The video "Strange Fire"by Swiss artist Sylvie Fleury, based on a priori basic concept: a woman, perched on high heels, crushing tirelessly silver Christmas balls.
No Signal, N3krozoft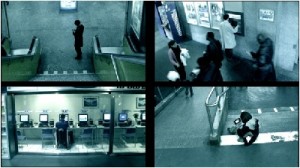 Four video pieces ("counter-commercials") for electronic advertisement billboard, screened in Geneva central station during June-August 2006 (in the frame of the exhibition Photo-Trafic).