Co-curator for the international artworks
Back from Brasil this summer, I wanted to invite in Gamerz05 some of the artists I really enjoyed while staying in Sao Paulo. First, I would like to give a tribute to a wonderful artist, Tania Fraga. Her work is related to poetry and geometry, to cosmic and organic forms, music and architecture. Her prolific creation, from virtual reality in the beginning of the nineties, to the nowadays use of open source and free software, shows her talent to continuously experiment very complex physical principles and transform it into poetic games and animations. Rick Castro, born in the nineties, is an artist from Sao Paulo who could also flies into the virtual reality animations of Tania. In his video Super Rick he invites himself inside the flashy animations of the video artist Rodrigo Dutra. Very refreshing and full of glittering power, it heals any pain as it gives energy and happiness to anyone who looks at it.
Also shown at this summer Mostravideo in Belo Horizonte (BR), the Machinima selection screened at ARCADE aims to present the latest possibilities offered by game engines, Machinima tools or virtual environment like Second Life, to create movies. If it can be said that at the beginning, Machinima's content was mostly related to game universes and thematic, it deals now with aesthetic, politics and social matters. Virtual Gantanamo is a short documentary by the journalist Bernard Drax (US) about the virtual center of detention in Second Life , Sorrow and Hope by Carla Broek (BE) or the Maseno Project by Sereny Mercier (CA) aim to give consciousness of poverty matters through a virtual world that deals only with money, as everything is to sold in Second Life…
Machinimas can also produce experimental movies, like this strange very short film directed by the Finnish artist William Fink : Phantasmagoria. Created for a competition of 30 seconds films by the Moviestorm website, it produces a strange sensation and succeeds to create an atmosphere and a very original universe in a short time. Game Over by Pierce Portocarrero (US) is a creative use of the universe creation's potential of SL and Orchestral Investigations by Brigit Lichtenegger (NL), is sound and music experimentation in SL, part of a concert/film Machinima series. Finally, Chantal Harvey's work (NL), also shot inside the virtual environment Second Life, deals with human being control in her movie Orientation or with digital art while she is virtually filming a performance of the Australian artist Stelarc inside SL, The Body is obsolete.
Arcade, Seconde Nature, Fondation Vasarely – Aix en Provence, from nov. 26 to dec. 4 2009
Danca Maluca, Tania Fraga, 2009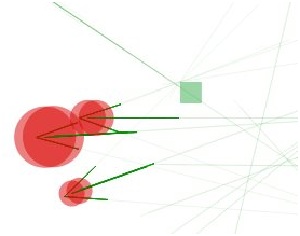 A poem created as an interactive sound games created with Processing.

SuperRick, Rick Castro, 2008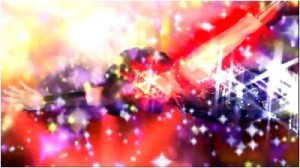 RICK, the super hero in the purple world using his glittering powers to save the world.