Aix en Provence, january 2009
Co-curator of international artworks
What is going on when video games turn to be a medium that allowed artists to create? When artists invest fields such as virtual universes, or network? When contemporary art meets entertaining and freaking universes?
Back from Istanbul and for the fourth time, the international events GAMERZ spreads over the city of Aix-en-Provence, taking over three locations of contemporary art. From the very beginning of the year 2009, a real cultural tour emulates the city during a month, inviting the public to discover the new creation through a series of exhibitions, meetings, and performances. Far from a simple festival, GAMERZ deploys a deep work over artistic creations and new interventions around creative processes.
Realized in cooperation with Germany, Czech Republic, Slovenia, Slovakia, Turkey, Austria, England, and in collaboration with Second Nature association, M2F Créations is undertaking a real inter-cultural exchange and proposes an intense rendez-vous with contemporary arts in the region of P.A.C.A.

For this edition, I selected two programs of machinimas and I presented the video Gold Farmer by the artist Axel Stockburger.
Machinima program:
The Days After, 2006 André Pesch, Apollo Productions
This Spartan Life, épisode 4, 2006 Bong Dern
Male Restroom Etiquette, 2006 Phil Rice, Zarathustra Studios
Only, 2007 Phil Rice, Zarathustra Studios
Bloodspell, 2006 Hugh Hancock, Strange Company
World of Electors, 2007 Alex Chan, Eyeka
Fair Game, 2007 Strange Company
Le Danger Attaque à l'aube, 2006 Bill et John, épisode 2 KBS Productions
My Second Life, 2007 Douglas Gayeton, Submarine Channel
Fair Game, 2007 Strange Company
Gold Farmer, Axel Stockburger, 2008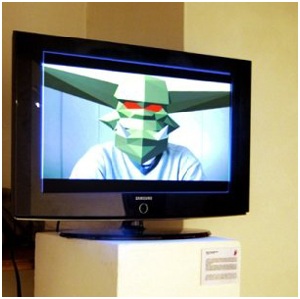 ''Gold farming'' is the art of earning real money in online games. The boundaries between play and work become blurred here: on the other hand, we can see the cracks and inconsistencies between privately-owned global media empires, if, for example, European gold farmers meet Chinese. (Axel Stockburger).