Médiathèque de Meudon La Forêt
27 nov. – 5 dec. 2007
Game art exhibit
From Russia with fun, Damien Aspe, 2007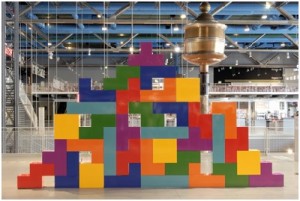 35 elements in mdf with varying sizes representing Tetris, the work of Russian Alexey Pazhitnov.
Camping Station, Dardex – M2F, 2007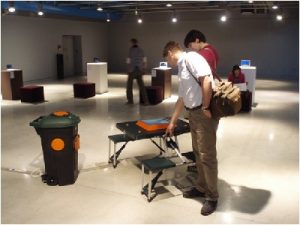 Camping Station is a minimalist interface between techno video and sound, carried out in 2007. It is a camping table which can be folded up and transported, equipped with 4 push-buttons and a flat screen. It works with a tuning bin made into a heavy sound system. It is a playful installation which takes up the aesthetic codes of several generations, combining design and recycling, half-way between the camper of the 70's and techno-culture of the 90's. The audience is invited to make a technomix, to compose with partners and in this way to become D.J and V.J virtuosi.
Play All, Vittoria Polatto, 2008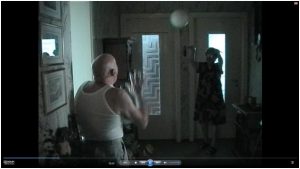 A video that plays on the difference between bitter sweet game and reality.
Mathias, Yann Groleau, 2007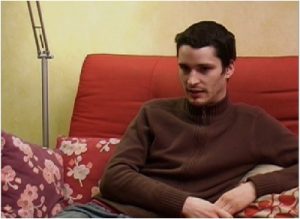 The video called ''Mathias''plays ellipses in an interview entirely redesigned, of a video game player to MMO.
Samorost, Jakub Dvorsky, 2003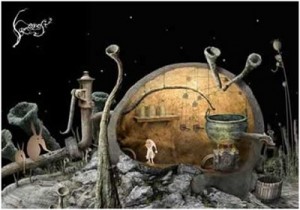 Samorost is a series of independent video game adventure point-and-click, developed by Czech studio Amanita Design. The word "Samorost"comes from the Czechand designate a piece of wood or root of a strange appearance, which may be recalled as a créature. It may also appoint someone who doesnot care about the rest of the world, as the game character, an elf who lives alone with his dog on a small planet.