Artist Portrait by Turbulences video 2018
"In a cellar, cut into the volcanic rock, not far from Notre-Dame du Port, the sublime Romanesque church of Clermont-Ferrand, after descending endless steps, one discovers in the darkness a beam of colored light sweeping across a sandy beach. It seems that the earth vibrates, rises gently, that a wave runs through it. Slowly progresses a set of stripes of tuned tints, violet, yellow, green, orange, lemon, etc. as a wink to a delirious Buren.
Invisible loudspeakers diffuse reassuring vibrations. We want to dive into this underground atmosphere and yet so celestial. Isabelle Arvers offers us the key to the rainbow: we can walk in its contrasting folds, wrap ourselves in its nuanced fabric.
The hope of living in a friendly world cures us of our dark ideas, so easily maintained by the spectacle of contemporary political unconsciousness. "
Jean-Paul Fargier 2018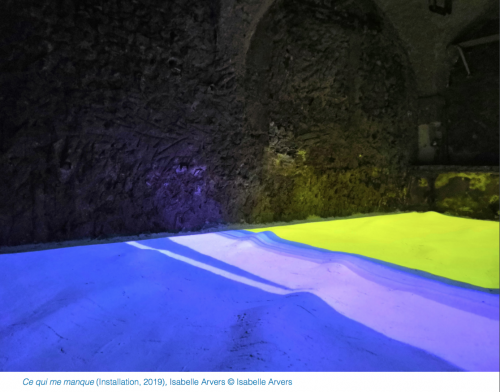 Tania Mouraud versus Isabelle Arvers. Désespoir ou ataraxie ? Culpabilité ou innocence ? Dépression ou jouissance ? Deux faces, parfaitement incarnées, des contradictions qui animent le destin du monde actuel.
par Jean-Paul Fargier
« Dans une cave, taillée dans la roche volcanique, pas loin de Notre-Dame du Port, la sublime église romane de Clermont-Ferrand, après avoir descendu d'interminables marches, on découvre dans l'obscurité un faisceau de lumière coloréqui balaye une plage de sable.
On dirait que la terre vibre, se soulève doucement, qu'une onde la parcourt. Lentement progresse un jeu de rayures de teintes accordées, violettes, jaunes, vertes, orange, citron, etc. comme un clin d'œil à un Buren déluré.
Des haut-parleurs invisibles diffusent des vibrations rassérénantes. On a envie de plonger dans cette atmosphère souterraine et pourtant si céleste. Isabelle Arvers nous offre la clé de l'arc en-ciel : nous pouvons nous promener dans ses plis contrastés, nous envelopper dans son étoffe nuancée.
L'espoir de vivre dans un monde amical nous guérit de nos idées noires, si facilement entretenues par le spectacle de l'inconscience politique contemporaine. «
Portrait d'artiste : Isabelle Arvers Turbulences Video n°104
Sommaire (p.36-37)
Entretien avec Isabelle Arvers – Propos d'Isabelle Arvers, recueillis par Gabriel Soucheyre (p.38)
Compte-rendu Résidence VIDEOFORMES – Par Isabelle Arvers (p.50)
Interview Hack Circus – Par Isabelle Arvers (p.54)
Games Reflexions – Propos d'Isabelle Arvers, recueillis par Regine Debattay(p.60)
Isabelle Arvers – Propos d'Isabelle Arvers, recueillis par Karen Verschooren (p.71)
Les machinimas – Propos d'Isabelle Arvers, recueillis par Les cultures numériques (p.76)
Rural.Scapes : un lab rural pour artistes, vaches et poulets au Brésil – Par Isabelle Arvers (p.82)
Portrait Vidéo – Isabelle Arvers – Par VIDEOFORMES (p.87)