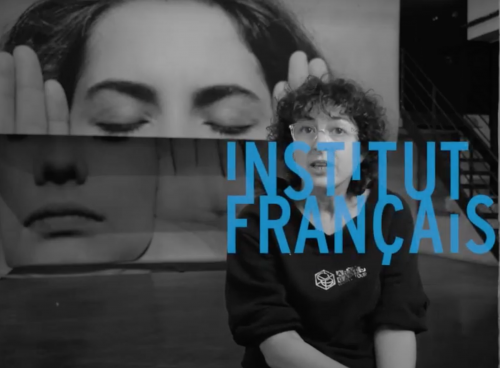 My art and games world tour has been made possible thanks to the support of the French Institute in Paris, after more than one year touring the art and games global south world, the French Institute is interviewing me about my parcours and the outcomes of this research.
To celebrate the 20th anniversary of your career, you went to meet digital artists in some fifteen countries. How did the Art Games World Tour come about ? What approach did you take in going to meet them ? 
Since starting out in 1997, I have always tried to show another side to the world of video games – diversity, alternative games – and how it can be used as a medium. In the West, issues of sexual, gender-based or geographic diversity are being increasingly taken into account. Twenty years after starting out, I wanted to know what was happening in non-Western countries in order to decentre my practice and highlight something different. I decided to travel to countries in the southern hemisphere and focus on feminist, queer and decolonial practices. I wanted to understand how these issues were addressed by developers, activists or people using video games as a medium. I drew on my network of artists and feminists. I was lucky enough to be recommended by people, which allowed me to enter into a sphere of trust and tackle delicate, or even taboo or illegal subjects, such as queerness or feminism. In Korea, for example, if you talk about feminism you risk losing your job!
One of the aims of this world tour was to gain an awareness of the latest developments in video games and contemporary art in different countries. Now that you're back, what's the state of play ? 
These days, neo-colonialism is a more appropriate term than post-colonialism when talking about these countries. There is that tendency of "Don't liberate yourself, we'll take care of it" (2020) to borrow the title of Bibia Pavard, Florence Rochefort and Michelle Zancarini-Fournel's book. The new generation of artists and activists is enacting its own decolonisation: a new voice is emerging. For example, it's now possible to find games created by indigenous people. The online sharing platforms enable people to sidestep those who hold the power. In India, Latin America and, to a lesser extent, in Africa, games that use local culture are starting to emerge, like the game "Dahalo" which is in Madagascan but with French and English subtitles. In places where the digital world isn't widely developed in artist networks, it's important to spark encounters and collaborations. It's important for me to promote this diversity, to bring their cultures to light and support them in this recognition.
Which countries stand out the most for you in terms of digital art and video games, and why ?
I haven't explored every country and it all depends on the education and training they offer. In terms of digital art, Brazil stands out as it's funded by banks and oil companies. The country is also playing its hand in the world of video games, including in the struggle against gender and sexuality-based discrimination. Some independent gaming companies have ethics committees for this purpose. The issue of minorities is echoed in video games, as shown in the game "Os caminhos da Jibóia" developed by the anthropologist Guilherme Menezes with the Huni Kuin indigenous people. Nigeria and Kenya also have an abundance of creativity in terms of virtual reality and video games. A lot of the artists who use digital resources have studied in England or the United States.
Digital art is starting to appear in museums and galleries, but this is still in the early stages because the contemporary arts market is still based on more traditional media and the object
What place do women artists and developers in southern countries occupy in the digital sphere ?
The place they occupy is more or less equal to that of European women: between 2 and 10% depending on the country. In Latin America, women occupied a prominent place in the digital sphere, particularly in video games. I discovered Melisa Allela in Kenya, who uses video games as a medium and has an interactive narrative project in virtual reality which revisits African storytelling. In Asia, it's a complex issue. There are women in the digital sphere but few feminist networks, with the exception of Taiwan which is a progressive country: Audrey Tang, a former hacker, is the first transgender woman in the world to be made a minister!
You are one of France's specialists in machinima. How is this practice viewed by the public ? Is the creative process for these digital works different to that of a film ? 
Machinima is a genre of film as well as a production technique. The creative process is similar to that of a film, the difference being that the camera is inside a game engine. Using a video game engine, you can capture sequences inside virtual spaces, directly within the video game, and thereby create new narratives. You need a storyline and the technical team is smaller. You can rework camera shots using the game GTA and software, such as Moviestorm, has been developed specifically to make films using a game engine.
It was quite popular between 2006 and 2010. The dedicated website, Machinima.com, got a lot of visits and developed a YouTube channel which has had as many as 12 million subscribers worldwide. The website and channel closed in 2019.
You started your career as an exhibition curator and art critic specialising in video games in 2000. What, in your opinion, are the major changes that have impacted these sectors ?
The access and scope of game engines such as Unity or Unreal is a major development, not to mention the emergence of smaller game engines and software, some of them free. The appearance of online platforms for sharing video games, such as Steam or Itch.io, have enabled independent productions to increase at prices that are affordable for players. Finally, lots of games have been produced and marketed through crowdfunding. Digital art is starting to appear in museums and galleries, but this is still in the early stages because the contemporary arts market is still based on more traditional media and the object.
The Institut français and the project
Image
Isabelle Arver's project Art Games World Tour has been supported by the Institut français via IF Incontournable.