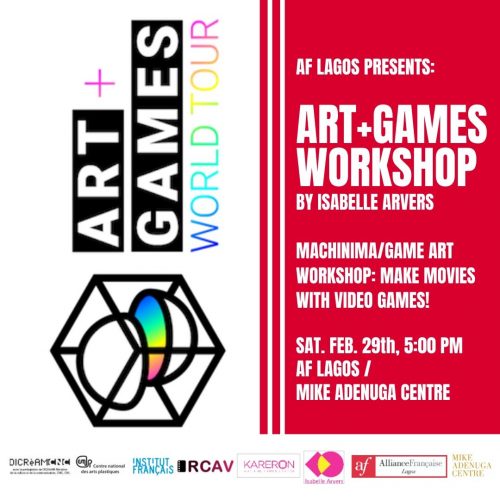 Alliance Française Lagos is happy to present "MACHINIMA/GAME ART WORKSHOP: Make movies with video games!", a workshop presented by French art and games curator Isabelle Arvers. The workshop will take place at the Mike Adenuga Centre (Osborne 9, Ikoyi), in the Room C, on Saturday 29th of February, from 5:00 to 8:00 PM. Games and opensource softwares will be provided on Flash Drives for Mac and Windows PCs. Please bring your own laptop. It is open to students in art, visual art, game development and digital media, artists, game developers and professionals. Please RSVP to secure your participation (email: culture.lagos@afnigeria.org).
MORE ABOUT THE WORKSHOP: In the footsteps of machinima making – the use of video and computer games to direct movies with a game engine – games can be perceived as a medium and as a raw material for artists to create hybrids artworks from stop motion, video art, experimental cinema, installations; and can be transformed into colors in order to produce a totally new original artwork. Each step of the workshop can enable everyone to fit into a creative process: games wandering and recording, transforming games spaces into set design, video editing, sound mixing.
MORE ABOUT ISABELLE ARVERS: Isabelle Arvers is a French artist and curator exploring for over 20 years the fields of digital art and video game, on formal as well as ethical and critical approaches. Her work explores the hacking possibilities of video games and mostly materializes in films called machinimas to be screened in on-site performative installation spaces. Arvers' work grounded on collaborative experiences reflects all the possibilities of the "working together" processes. As a curator, she focuses on video game as a new language and as a medium for artists, notable exhibitions include Mind Control (Banana RAM Ancona, Italy, 2004), Node Runner (Paris, 2004), Playing Real (Gamerz, 2007), Game Heroes (Alcazar, Marseille, 2011), Evolution of Gaming (Vancouver, 2014)., UCLA Gamelab Festival (Hammer Museum, LA 2015, 2017), Machinima in Mash Up (Vancouver Art Gallery, 2016). In 2019, she embarks on an art and games world tour in non western countries to promote diversity of gender, sexuality and geographic origin and focuses on queer, feminist and decolonial practices. Working towards an exhibition and an international conference on post colonial game studies to be held at la Sorbonne in 2020, her reports on the research tour can be read online in Usbek & Rica, Poptronics, Immersion. and artistic video games in a music party. Isabelle curated the 6th edition of Art Games Demos in Medellin in 2018.
💸FREE
🚪RSVP ONLY: EMAIL US @ culture.lagos@afnigeria.org – LIMITED CAPACITY: FIRST COME FIRST SERVED