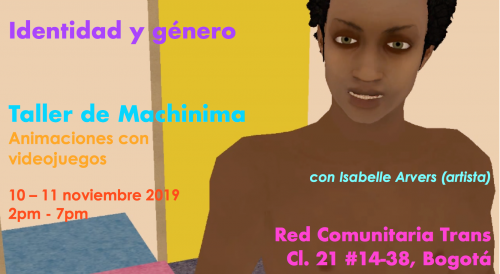 In the frame of my Art and Games World Tour, I curated the exhibition Tecnofeminismo at the French Alliance of Bogota. In the days previous to the opening, I held two machinima workshops at the Red Comunitaria Trans in Santa Fe area of Bogota. The workshop dealt with gender and identity in videogames and how to use game engines to recall RCT memories of transgender persons in Santa Fe. The subject of police violence made on transgender was also  mentioned as a possible subject of machinima.
Siguiendo los pasos de la fabricación de machinima, el uso de videojuegos y juegos de computadora para dirigir películas, los juegos se pueden percibir como un medio y una materia prima para que los artistas creen obras de arte híbridas a partir de stop motion, videoarte, cine experimental, instalaciones y obras de arte interactivas. ; y transformado en colores para producir un Mash Up y una obra de arte original totalmente nueva.
Los talleres tienen como objetivo transformar un objeto de consumo masivo y entretenimiento en un medio de producción y expresión cinematográfica. El taller tiene la intención de crear trabajos híbridos con personas interesados en ampliar los límites entre los videojuegos y los juegos de computadora y el mundo del arte.
Contenido
El taller / conferencia de Machinima tiene como objetivo abordar críticamente los videojuegos y el arte, como instalación, rendimiento, pintura digital en movimiento, juegos, interactividad o video.
El taller / conferencia comienza con una proyección de machinima y obras de arte del juego. Esta proyección muestra la variedad de juegos utilizados para diseñar películas o videos, así como la variedad de enfoques, desde la ficción de fanáticos hasta las obras de arte más experimentales. Aquí hay algunos ejemplos del contenido mostrado durante el taller:
Bio
Isabelle Arvers es curadora de arte y nuevos medios de Marsella (Francia). Desde 2002 ha curado Machinimas y otros programas de nuevos medios para festivales y museos incluyendo el Centro Pompidou (París), Vector Game Art Festival (Toronto), Vancouver Art Gallery (Vancouver) y el French Cultural Institute (Berlin). En 2015 formó parte del equipo curatorial del UCLA Game Art Festival en el Hammer Museum. También ha dado cursos y talleres sobre Machinima en diversas instituciones como el Center for Digital Media en Vancouver y la Sorbona de París. Acaba de organizar Trans//border, enseñanzas de Nathalie Magnan, un evento sobre ciberfeminismo, fronteras, ecosexualidades y conocimientos situados.
http://www.isabellearvers.com/