These last three days, I spent my time talking and thinking about games. I went first to Cergy, invited by Xavier Girard, the artistic director of Visages du monde, a new space dedicated to digital art and video games. There, we had a collective meeting about a new festival that will be held in october: Retro No Future Games Festival.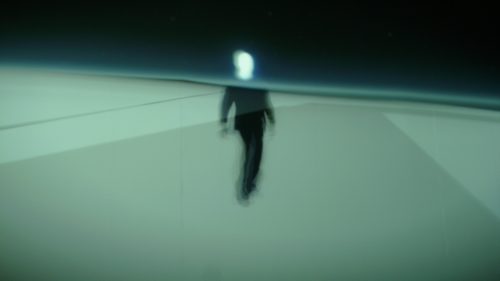 We were about ten people, from non profit student organizations to games "experts", artists, lovers, etc… Among the others, Simon Bachelier and Brice Roy from the art/games collective One Life Remains were present, they are going to show some of their most recent artworks and should be also in charge to curate an experimental indie games show under the theme: Punk. Also, I had the great pleasure to meet Tony Fortin who used to be in charge of Les Cahiers du jeu vidéo and who now works for the excellent blog Merlan frit. Tony is interested in the economic, political and social consequences of video games and he will be in charge of the festival and exhibition catalog. There was also Pierre Corbinais from an other excellent blog Oujevipo, which offers daily critics of indie and experimental video games and computer games. It was very important for all of us to meet in order to confront and share our ideas.
During the meeting, the theme of the games contest organized by Pierre and Visages du monde was revealed: it is "Work it!", the games have to be sent to Ougevipo's website till July 15th.
For this event, I am in charge of the curation of a show at le Carreau, which is a contemporary art space, also in Cergy. This show is about critical games and games as a mean of expression. It will be held from 18 october to 30 november. During the meeting, I gave a prior list of artists or games to which I was thinking. But it was just something to begin with, because I am just in the beginning of the process and I really want to let it open to any suggestions and find rare and unknown treasures. The only thing I knew at that moment is that it would be about social, political and critical games, ok, but then??? Also, what I was able to give at that moment was the names of some artists and games which inspired me, knowing that I didn't contacted anybody yet except Sabrina Calvo and M2Fcreations with whom I absolutely want to work with,:
watch dogs
arno coenen
cécile le prado
avenue de l'école de joinville
florian riviere
under the ashes
enjmin game about addiction
carlos zanni
robot m2f
in a permanent slave state
sweat shop
cart life
eric zimmerman
shu lea
virtualistes
fran illich
molle industria
jfk reloaded
vietnam romance
florent deloison
mac donald
september 12
endgame syria
jeu iranien
pirate kart
antiwar game
sissyfight 2000
end game waco resurrection
peacemaker
illegal heroes
anna anthropy
harun farucki
banoptikon
anne marie schleiner
sabrina calvo
matteo bittanti
remember
http://mediablackout.mwwilson.net/
colombinegame
corridos
The day after, I wanted to go to the country side but ended at le 104 where Futur en seine was presented. There, inside something that looked like an innovation show, I saw Florent Deloison, who's is going to be the artist in residence at Visages du monde and who will be part of my exhibition. He presented a guitar hero game where you play with the sound produced by the CAC 40 flow. I played his game for a little while and then, he adviced me to look for a sound game installation created by Cécile de Prado, saying that it was very poetic. I climbed some stairs and discovered Stéphane Natkin (CNAM, ENJMIN), who was speaking with Etienne Armand Amato. Stéphane offered me to look at Le promeneur écoutant. It is a sound installation where you navigate thanks to a pad in an invisible city. You have to follow caracters and sounds in order to recreate a city, find your way and finally find the Pantheon. I really enjoyed the piece and asked if it would be possible to show it in the future show in Cergy. We will discuss it this summer!
Then, on my way back home, I met again Etienne Armand Amato (President of the OMNSH) who told me about an experience in Eve online done by the artist Claire Sistach. It consists in a persistent game exploration, that she first did inside WOW, then in Minecraft and now she just began her exploration of Eve Online. For these art explorations of online games, she closes herself inside her apartment with food, in order to be able to play without any interruption during a certain time. For WOW, she spent one entire month but had to stop because of health problems, like costal decease for example. Then, she spent 15 days inside Minecraft. For Eve Online, she is working with a psychoanalyst, who interviews her every morning about her dreams, in order to see how digital universes influence the way she dreams and also to see if she gets the fever of gamers. I super enjoyed this new project and I decided that it would be great also to show it in Cergy.
The day after I went to Games 4 change Europe co-organized by Jean Michel Blottière, invited there by Simon Bachelier. I had the pleasure to see Margherita Balzerani and we spent the entire day together. She introduced me to Alexis Jolis-Desautels from Ubisoft who told me about Academia, a Ubisoft initiative which is excellent. It is dedicated to create games with teenagers but also students i very different manners. For teenagers, they organize Camps of one week and they learn how to create a board game. With students, the camps are longer as their duration is about 6 months. It is an inter-university contest, where all the teams have to create a game, with the engine of their choice, under a certain thematic and constraints. It encourages interdisciplinary projects.
At the end of the day, I talked with Florian Riviere a game/art activist, interventionist who gave a keynote at Games 4 change, and offered him to intervene inside the show in Cergy. I really like the idea as he isn't so much into digital but will transform the place into a playground.
Also, during the all day, I received many insightful suggestions for the show, from the members of a Facebook group dedicated to Research on video and computer games. Olivier Mauco, Doctor in Political Sciences sent me the link of his blog, and also of his text about the subject: " Communication politique et dispositifs vidéoludiques ". Remy Sohier also sent me his Master thesis " Des sensations inter actives au service dune expression artistique", 2012 This is just an abstract of what was sent to me on Facebook, now I have to work on it! Also, in the morning, Simon sent me the link of a jam that just happened in Turkey: JamGezi which is also a very accurate resource.
This day was also great because we agreed with Marguerita to work together on a book, and also on an exhibit together. We are going to begin our collaboration with the show in Cergy and then, prepare the synopsis of the book and of the future show. I am really excited about it. We began to share some ideas on how we curate shows, from where we begin and how we work. She told me that she always begins with a title. Me I begin with key words, artists names and then, I construct the content after a drift in what I love. I promised to look for a title in the train, where I am now and I perhaps found it. It could be: "Games reflections", but it is only a first idea that could change, but temporary, let's say the title is "Games reflections".
Finally, after these three days, full of lovely and rich meetings, suggestions, discussions, little by little, the content is emerging. Thanks everybody, now I can go to the beach and swim for a little while in order to digest it!!