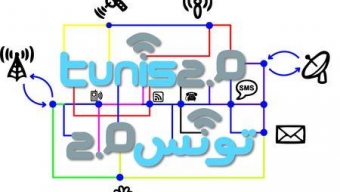 Tunis 2.0, 30 sept – 1st oct. 2011, Africa Hotel, Tunis
As I participated to Marseille 2.0 in 2010, I got in touch with Philippe Français who introduced me to the organizing team of Tunis 2.0 and partcularly with Abdelmajid Labidi. We met this summer in Tunis and decided that I will participate to Tunis 2.0 with a workshop on gamification and advergaming and on how games mecanics are used in webmarketing and communication. I am really happy to participate to this event that will be held in Tunisia, few months after a revolution. I think that it is important to participate to such an event in order to discuss about new ways of governing, managing and collaborating with social media networks.
I arrived in Tunis on the 29th without anybody to welcome me and after few hours I discovered through the website and on Facebook that the event was cancelled because Albdelmajid Labidi disappeared. Hopefuly for me, the French Cultural Institute invited me to come and took in charge my flight, which was not the case of the other participants. What is great in a way in what happened (and for the moment everything needs to be cleared and it is difficult to affirm what exactly happened) is that this adventure was made possible by people with good wills and these good energies are still on to organize a new event.
I also had the chance to meet really interesting people : Walid Elfehri, Mounir Grami, Rais Rim, Yasser Monkachi, Sofiane Achour, Nicolas Chagny and also two persons from Tunisie-news.com and it confirmed my enthousiasm to participate to this event, because it has all the elements to be great!
So, an other event is going to be organised and right now people from Tunisia and abroad are joining efforts to create an online event. Some of the presenters already putted their presentations online as I am doing it here :
The other presentations are going to be published online on the Facebook page of the event :
http://www.facebook.com/Tunisdeuxzero