National State Library of Victoria, Melbourne, Australia, oct/nov 2004
Touring french Australian exhibition, part of Reactivate was exhibited during the Adelaide Film Festival, feb. 2005.
366 days, Ultralab, 2003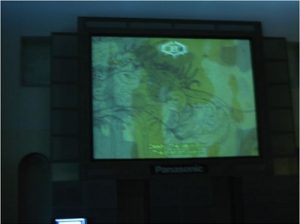 A video of 52 seconds will be as many names as the number of days in a year, which will explore the inside of a fiction that will increase as the expansion after an explosion of origin, "neurosis" of an IP (Intelligent Program), a sort of artificial personality drifting inside a giant futuristic network. This project is the first step towards creating a video game.
Safe Society, Martin Lechevalier, 2003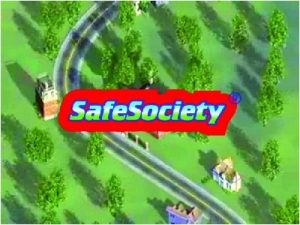 Have you ever dreamt of a world where your daughter could go out alone at night? A world without violence, drugs or theft. A world where cars don't kill, neighbors are not a danger. A world from which pollution has disappeared, where diseases are curable and health a god-given right. This world has a name SAFE SOCIETY
Hollidays Movies, KOLKOZ, 2003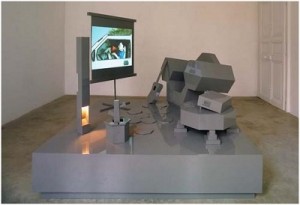 "We want to try another absurdity, doing a holiday movie using computer-generated images.Which means re-creating with computers the chaotic scenario and cuts, which are peculiar to holiday movies. Hong Kong is for us a symbolic city. This name was the signature of the technological objects of our childhood. We have since learnt more rational things about these but that's this very impression which remains engraved in our memories. Starting from this movie, without any aesthetic concern or narrative will, we want to make an exact reproduction of all these "real" images using computer-generated ones."
Rolitoland, Rolito, 2003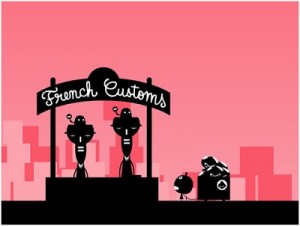 As a Flash interactive fiction, Rolito Land shouts with awesome designs and vibrant colors. The very personal site of Rolito, with nonsense but very original ideas, entertaining environments and very bizarre creatures…
Sens dessus dessous, Post-production Plokker, 2002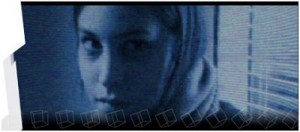 Sens Dessus Dessous is a unique experience between traditional film makers who had never worked before with digital and multimedia technologies and Plokker, an independant multimedia company that produces games, websites, interactives fictions… During one year, the three film makers discovered all the technologies related to interactivity, the discourse around cinema and new media and tried to give their own point of view of the possible future of interactive fiction. Two versions are available : interactive on the web and on DVD and a linear version for movie theatre and television.
Society, Panoplie.prod, 2002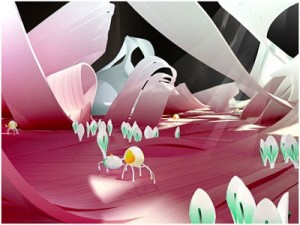 Society – an imaginative multiuser online game – guarantees the user a plain, playful pleasure of all senses. It leads every player to the jubilaton for a cyber organic, anti-gravitational reproduction. Each player becomes a little avatar – a pink quadruped, looking like a jellyfish, and betakes himself in the search of the end of universe. While roaming the soft pink organic matrix, one can enjoy intergalactic encounters with other players and start seductive chats. But the little avatar has a life cycle and will have to grow up by catching and swallowing other little creatures of a similar kind. That's part of the game – primal and organic. Four different worlds lead the player through amazing graphical environments. Society also convinces with its sound design in three dimensions. It shows that life can be a joyful interactive adventure. (Véronique Godé-Europrix 2003)
Borderland, Julien Alma, Laurent Hart, 1998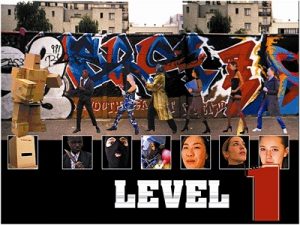 This CD-ROM is multilingual – not without a reason, but with an underlying concept. In 'Borderland' you will face the cultural diversity of people living in the urban border districts that are, for example, well-known for Paris. Referring to video arcade games, the two authors present 55 characters, from the loser to the dog carrier, who fight each other and are controlled by the player.
Selection, Nicolas Clauss, 2002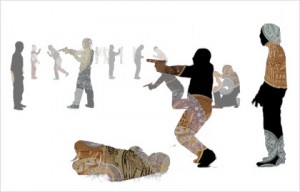 This site was launched on 24.04.2001. It is the work in progress from Nicolas Clauss. It's a place of experimentation offering several pieces where interactivity and play dimension are essential. It is important that the user can appropriate them in creating its own interpretations from what is given. Over 50 on-line interactive pieces, realized in collaboration with musicians (Jean-Jacques Birgé of course, but also François Baxas, Denis Colin, Patricia Dallio, Pascale Labbé, Thomas Le Saulnier, Jean Morières, Hervé Zénouda).
Hématome, Emmanuel Kodjo, Romain Deflache, 2002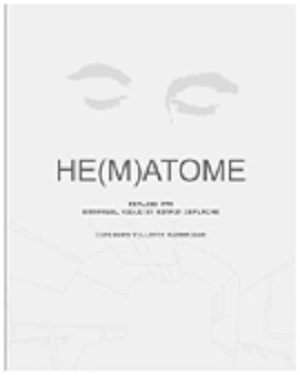 Hématome (haematoma) is an interactive music clip. It consists in having the spectator playing a role in the construction of the music that he is listening by interacting with a visual environment. The scenario is written as a piece of music (intro, verse, chorus…). It is also a game because you shall guess the objects to interact with and the actions of the mouse to be made (roll over, click, drag) to be able to go further into the construction of the music and to move on into the visual environment.
Audiogame, Marc Em, 2003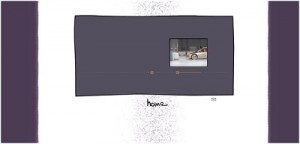 Audiogame is a Sound toy 4 graphic interfaces. The idea is to give a major place to the music on the internet in an other way that just with MP3 downloads. Audiogame's aim is to render the sound as interactive as the image : a multimedia experience.
Isabelle, Thomas Cheysson, Belisa, 1999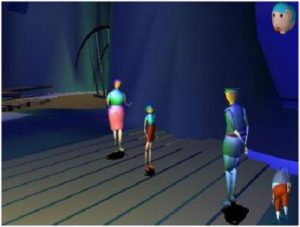 An irritating mother, a hypocritical girlfriend, a sadistic brother in law, brutal guards, a cop for a father in law: here are some of the people who live in the village of Crison. You really want to kick their asses, even your girlfriend's, Isabelle. But you have to save the village from More, who rules the place with his disgusting thugs. You can be both George, who is blind, or his younger brother Raymond, a little brat. If you are smart enough, you will use Raymond's qualities and subvert the village against More. This CD Rom is one of the best examples of a narrative fiction using a behaviour engine and a complete 3D interface.