Interviews of the artists

www.bananaram.org
Games, web and action
Laxk of entertainment create monsters…
Metapet, Nathalie Bookchin (US), 2002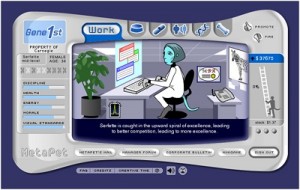 http://metapet.net/
The world's first transgenic virtual pet game: are you ready to manage the worker of the future?
Natalie Bookchin is an artist based in Los Angeles and is a faculty member at CalArts. From 1998 to 2000 she was a member of the collective ®TMark. She was a 2001-2002 Guggenheim Fellow. Her work is exhibited at institutions including PS1, Mass MOCA, the Museum of Contemporary Art in Barcelona, KunstWerke, Berlin, the Generali Foundation, Vienna, the Walker Art Center, the Whitney Museum of American Art, and the Shedhale in Zurich. Presentation of agoraxchange, co-authored by Jackie Stevens.
Finger Print Maze, Amy Franceschini, Richard Mortimer Humphrey, David Lu/Playshop (US), 2004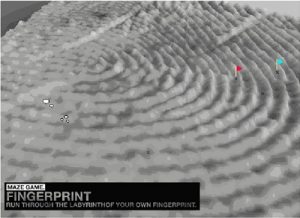 http://www.futurefarmers.com/playshop/PJ1.php?id=3
A physical interface that scans people's fingerprints using custom software to translate the print to a 3D maze that one can wander through on screen. Each individual fingerprint is graced by the presence of an extinct animal (3d rendering/ animation).
Playshop is where the energy of art production, education, curatorial practice and social interaction fuse to create a vital public space and an environment of exchange. Organized by Futurefarmers, Playshop is an extension of their studio practice. Amy Franceschini, founder of Futurefarmers, is a new media artist working with notions of community, sustainable environments and the conflicting rituals of humans and nature.
Being boring , Fran Ilich (MEX), 2004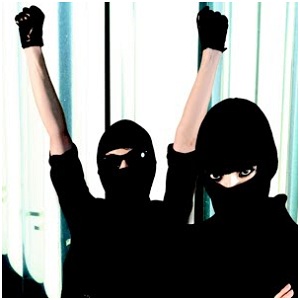 http://delete.tv/banana_ram/
No Playstation, No TV, Just real life
2 girls lose their tv and so they have to find a life of their own meanwhile the tv is repaired. For this they try all sort of stuff, from canned air to storytelling to running and cooking and so on….
Fran Ilich is a novelist, filmmaker and media-artist. he is director of the narrative media seminar of universidad internacional de andalucía, in sevilla, spain. and is currently curating the exhibition 'another narrative is possible!' at the centro multimedia del centro nacional de las artes, in Mexico city.
Vigilance 1.0, Martin Le Chevallier (FR), 2001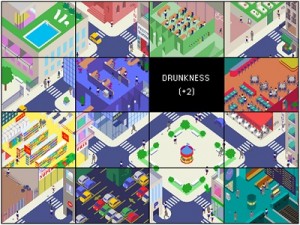 http://martinlechevallier.free.fr/english/A_vigilance.html
The player faces a series of screens allowing him to watch over many places in the same time : streets, supermarkets, parking lots, shops, apartment buildings, schools, etc. Denouncement is his aim.
Since 1989, Martin Le Chevallier (born 1968), has been working as a graphic designer. Since 1996, he has conducted a personal artistic research on social and political issues
Peoplejeans, CarbonDefenseLeague/Nathan Hacktivist (US), 2004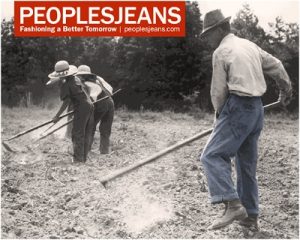 http://www.carbondefense.org/
peoplesjeans.com is a spoof business, a mockery of companies such as diesel, paper denim, etc. the company specializes in a new philanthropic concept of paying migrant farm workers, prisoners, criminals, street people, etc for their well worn jeans. we then clean the jeans, repackage them and label them with a small info Card explaining who wore the article before and for what activity and for how long etc
The Carbon Defense League is a collective of media artists, technologists, activists and critical theorists working to explore the intersection between radical theory, traditional activism, and technology subversion through the creation of tactical media projects utilizing communication system technologies.
Infowar map game, 2004 / Map Governing By Networks, 2003, Bureau d'Etudes (FR)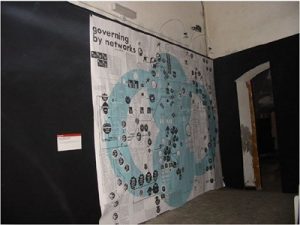 http://utangente.free.fr/
http://www.kuda.org
Xavier Fourt and Léonore Bonaccini work together under the name of Bureau d'Etudes and define themselves as documentary projects searchers that merge in the art context with maps, databases and flow charts. Installation & distribution of their map Governing by networks.
Kristian lukic, born 1974, artist and art historian, graduated art history at belgrade university is editor of kuda.info, in 2001 together with zvonko gorecan, he founded group eastwood. Kuda.org is dedicated to the exploration of new cultural relations, contemporary artistic practices and social issues. For Banana RAM, they will present the last version of the game that they are developing from the Infowar map created by Bureau d'Etudes.
Pavu.com, Pavu (FR), 2004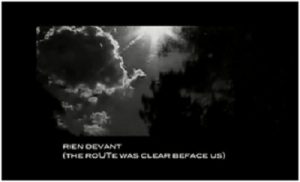 Hypertextual performances
Pavu.com uses its plining technology to drill the network infoderm for its datarvesting activities has always been concerned by the next or passed meta chromozomic ethics and mutations and their consequences on international solidarity and culture.
Endgames: Waco Resurrection, C-Level (US), 2004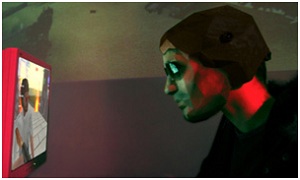 http://waco.c-level.org/
C-level unveils Waco Resurrection, its first chapter of Endgames, a new 3D multiplayer computer game series based on alternative utopias and apocalyptic moments. Each player enters the network as a Koresh and must defend the Branch Davidian compound against internal intrigue, skeptical civilians, rival Koresh and the inexorable advance of government agents. The Endgames series incorporates elements of subjective documentary and speculative fiction with new interactive technologies to create a visceral gaming experience focused on extreme psycho-social phenomena.
C-level is a cooperative public and private lab formed to share physical, social and technological resources. Its members are artists, programmers, writers, designers, agit-propers, filmmakers and reverse-engineers. Karen Lofgren, Christina Ulke, Cyril Kuhn, Eddo Stern, Jason Brown, Jessica Hutchins, Mark Allen, Michael Wilson, Marc Herbst, Peter Brinson