Arcadi, Région Ile de France, Paris, 2004
To promote alternative and free uses of wireless communications by an exhibition of wireless art projects.
Node Runners, Carlos Gomez de Llarena et Yuri Gitman, 2002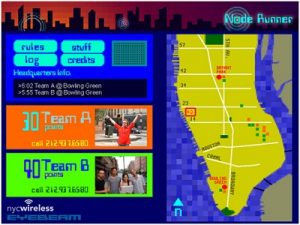 The game is NodeRunner. Two teams of players, responsible for identifying the most out of WiFi hotspots in the city,inagiven time. Developed by theassociation for the advancement of wireless internet NYCWireless, he received an award at thedigital art festival ArsElectronica, held in Linz, Austria. To democratize the Internet wirelessly in a fun way. It is an example of marketing practices that will emerge and will develop WiFi.
Steffen Rault, RMI, 2004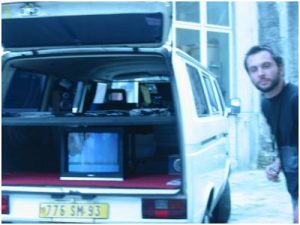 The Résidence_Mobile_Interactive is primarily a tool for the production and dissemination in real time. It is part of a fun approach to the tense meeting. The main idea is to understand a little better the electromagnetic waves and have an interest in a paperless form of neighborhood-oriented, and an other meeting. ForDavid Pearson, the notion of public space is not limited to the street bu tincludes public areas (public buildings, industrial …). Crossing the invisible boundaries that transform the spectator into an actor is a way to fight against the opacity, to refine its benchmarks. Thus a social space it gives to perceive.
The Résidence_Mobile_Interactive. Become"wardriver" the artist moves in a vehicle equipped to"sniff" the "sheaves of waves, emitted by wireless terminals but certainly privates plash collective sphere. In this approach browser spy technology meets the appropriate equipment. Utility vehicle equipped laptop and accessories are the hacker's heritage.
Daisy Chain, Guillaume Stagnaro, Peter Sinclair, Nao, Kevan Lemire, Anne Laforet and Douglas Stanley, 2004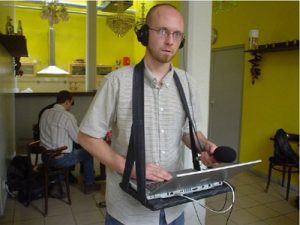 Daisychain means a child practice, somewhat naive, which involves assembling daisies to make a necklace for his step. In computer terms, it is a principle of parallel link, connecting different devices, cascade dona single gateway. Daisychain seeks both to exploit and build digital techniques. Thus the principle of network links between them, the computers of various participating artists, is in analogy with the approach of beginning.Everyone leaves the inputs and outputs at its artistic proposal so that it can join with others in a sort of chain.