In November 2020, I joined forces with Amaze, the Nairobi Bus, the French Alliance and the Goethe Institute to organise Jibambe na Tec a series of VR and Gaming exhibition, online and IRL workshops, conferences and performances.
I curated the exhibition of VR and games at the French Alliance, I also conducted a machinima workshop mixing video game worlds and traditional storytelling from Kenya narrated by Alumbe Namai and I finally gave a VJ Performance with EA Waves DJs to end this great festival. Jibambe na Tec means To have fun with Technologies and aimed at mixing real and virtual African spaces dealing with issues like consumerism, e-trash, Boko Haram, datamining, surveillance. The purpose is to try to imagine other futures and to reappropriate a narrative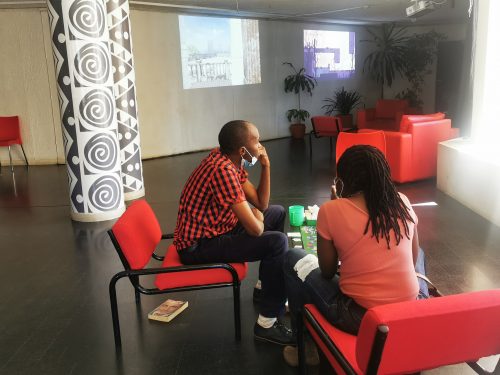 "Covid-19 has accelerated transition to the digital space in countries all round the world.  It has seen creatives turning to digital platforms and technology to create and connect with audiences.  This rapid uptake of digital technologies is expected to continue into recovery.
Given the important role of the digital services for creative industries, the Alliance Française de Nairobi and the Goethe-Institut Nairobi present a hybrid festival of digital media with the support of the French German Cultural Cooperation Fund.
This Festival highlight new digital practices in the Arts and the Gaming sector using a variety of digital technologies to create an immersive, alternative, and experimental experiences and celebrate the emergence of new works of art and playful media in the digital era.
Through in-person activities at the Alliance Française de Nairobi and online action, including workshops and talks, on the A MAZE. / SPACE – a virtual multiplayer 3D game environment, audiences will share knowledge, interact, have fun, and discover a whole new world in Covid-19 times.
Tron's Factory

This game for Windows PC has been created by the Ghanaian artist, Afrane Akwasi Bediako. His works explore the idea of augmentation and extensions between technological gadgets and humans. He works with discarded electronic gadgets which he refers to as "amputees". He refashions and repurposes these amputees into machines and micro- organisms he describes as "Trons".
Semblance

Semblance is a puzzle platformer game developed by Nyamakop where your character and the world it inhabits is made of playdough. Squish, squash and deform your character and the world to solve puzzles in Semblance's soft, bouncy world. Semblance asks, what if you could deform and reshape the world itself? It is a game that takes the idea of a 'platform' in a platformer and turns it on its head. It has been developed by Nyamakop, South African game developer.
Chokora Wear Alliance, Maasai Mbili (Artist)
What is chokora wear? This is a contemporary fashion research project aimed at the creation of a cloth line designed by the locals, for the locals with the help of artists and local fashion designers.Chokora wear researches on how one can reclaim his own identity and personality and culture through fashion. Chokora is a Swahili word which means to dig into stuff or given to street people thus lending this projects name. The research project was started in 2013 to recent. The aim of the project is to create a cloth line made from ones desire for what to wear, what to resemble like and what message to send through fashion. Then share it with other people.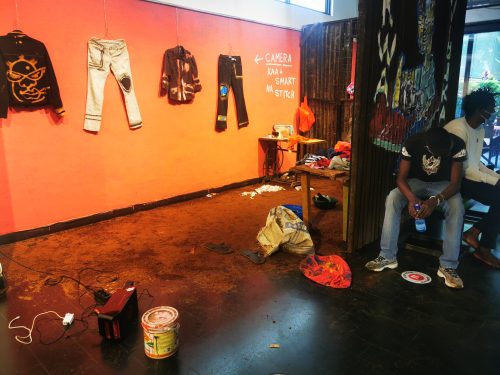 Maasai Mbili (M2) was founded in 2001 by Otieno Gomba and Otieno Kota. The pair began by selling novel hand-painted signs along Kibera drive, before acquiring a permanent site in 2003. This became the M2 Art-centre, serving as a studio cum gallery and a juncture for many creatives and artists in the area. The M2 Art-centre was a pioneering visual art space in Kibera; initiating opportunities for participation, collaboration, teaching and socialisation – as well as providing a space to work. Today there are approximately 20 members. Painting is at the heart of M2's artistic practice – some artists continue sign-writing. However M2 also ventured into community outreach projects, conceptual work, fashion, film, mixed media, music, photography and sculpture. The work they create, along with the artists, traverse local, national and global art worlds.The work of M2 is cited (or at least plays a part) in the culture of the city; it is produced as a response to the urban and as a result contributes to producing city life. In this case, the future of art may well be urban. However, if this is to be the case, you would argue that art's role relies on its ability to not only depict everyday life but to also disturb it – to give it new meaning and purpose. The work of M2 achieves this. Craig Halliday on the Maasai Mbili Artists' Collective.
Kerosh Kiruri (Artist)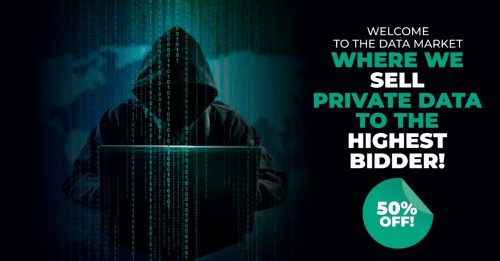 Kerosh is a young graffiti artist from Kenya who is among those at the forefront of changing public perception and to raise awareness of street art, often a misunderstood form of art, on the difference between artistic graffiti and vandalism that is more common on the streets in the city. He has worked on several community and civic educational mural projects and coordinates the Korogocho talking walls project.


He is also one of the artists behind the project as conceived by street diaries an interactive street art, graffiti festival and gallery show organized and executed by street artists.
African Space Makers (Africa Premiere)

A 360° interactive mockumentary that will give you an urban tour of Nairobi with your preferred guide.
You can choose to visit five different spaces in Nairobi from the biggest dumping site in Africa in search of objects and wild animals bones, to painting trains and running from data police with graffiti artists, or challenging the religious fanatics, skating in liminal spaces and drinking khat juice with trendy musicians before flying over the CBD.
The film, produced by TheNrbBus, with Black Rhino VR and INVR Space, was selected for the Venice VR Expanded Competition at the 77th Mostra Internazionale d'Arte Cinematografica 2020 and was nominated for the Lumiere Awards at Stereopsia 2020. This will be the African Première of the first-ever Made in Africa 360 interactive mockumentary series on creative African cities. visit the website https://africanspacemakers.space/
Vincenzo 'Dr. Faras' Cavallo (Artist)
Dr. Vincenzo Cavallo, also known as Dr. Farasi or Dr. Faras in East Africa, is both an academic and an artist but most importantly the founder of the legendary Nairobi BUS
His first feature film WAZI?FM received among other awards the Golden Dhow at the 18th edition of the Zanzibar Film Festival (ZIFF). His first web series Connection House was awarded at Roma Web Fest 2016 for best direction and Berlin Web Fest 2017 for best comedy. He produced, wrote and directed a 12 episode TV series on Afro-Colombian music that won the CNTV (Chile) award and the Co-production award of RTVC (Colombia). He wrote, directed and co-produced African Space Makers the first 360 interactive mokumentary series made in Africa!
The Forgotten Ones

Winner of the Best XR Project in the social field at the 2019 Virtuality XR Awards in Paris, this 360° degree immersive video gives voice to the communities living around the dumpsite – The Forgotten Ones – raising awareness on social and environmental injustice. It takes you into the world of the almost 1 million people living around this 30-acre site.  It has been produced by BlackRhino VR and features the Kenyan spoken word artist, Mufasa Poet.
Charles Muchiri (Artist)
Charles Muchiri is an enthusiastic immersive content creator based in Nairobi, Kenya. Having worked with both 2-dimensional and 3-dimensional mediums he believes that immersive technology is the
future of how we communicate as humans. As a young African immersive specialist, his mission is to advocate for the technology as a storytelling tool for other young professionals like himself to tell their
narratives, especially in Africa.
 Daughters of Chibok

Daughters of Chibok is a VR documentary by Joel Kachi Benson that tells the story of Yana Galang, whose daughter, Rifkatu, was among the 276 girls kidnapped by Boko Haram in April 2014 from their school dormitory in Chibok, northeast Nigeria. It won the Lion Award for Best VR Story at the 2019 Venice International Film Festival.
Joel Kachi Benson (Artist)
Lagos-based filmmaker and Founder of VR360 Stories. He is at the forefront of the VR filmmaking revolution in Nigeria. He is passionate about using immersive storytelling to transport people to other realities that they may not be able to easily access, as well as amplifying the voices of those who would ordinarily not be heard. He is producer and director of the award-winning VR documentary, Daughters of Chibok, that he hopes will take viewers on a virtual journey to a place that many have heard of, but few have ever been to.
Machinima films produced in the Machinima workshop conducted by Isabelle Arvers and Alumbe Namai, Kenyan stiryteller
Screening of films produced during the Machinima workshop conducted by Isabelle Arvers with students from the Dept. of Design & Creative Media of the Technical University of Kenya and the African Digital Media Institute.
Machinima is the art of filmmaking using video games. It approaches video games in a critical and artistic way, in the form of installation, performance, digital painting in movement, games, interactivity or video.
The films are based on African folktales. A storytelling session with the seasoned and infectious Kenyan storyteller, Alumbe Namai, has provided the participants with the inspiration to create a series of unique films using real-time 3-D engines.
Metaphysics for kids, by Kerosh
Nyasaye and Omuntu by Magdalene Nduku
Njoki and The Ogre by Dennis Mbuthia
Fruits Trees by Fred Ochieng, Vickram Kimwere, Eliud Njuguna
Fish soup by Purity Ngagi, Elvin Adika, Francis Amenya
Fumo Liyongo by Vickam