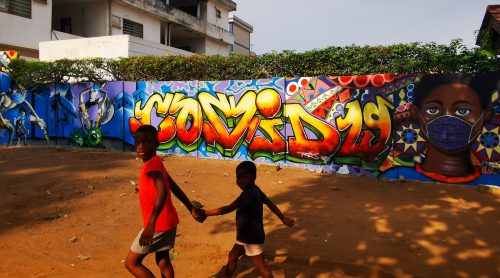 The project "Djé-Ayé, Art to Raise Awareness" was conceived during the month of April 2020 in response to the crisis of COVID 19 in order to prevent the risk of spreading the virus to marginalized people, especially street children in Lomé, Togo. Djé-Ayé uses the visual force of art as a communication tool, adapted and readable by all within the framework of awareness actions.
The primary objective is to support the Togolese awareness raising effort to strengthen prevention measures against the Coronavirus and measures to combat the spread of the epidemic.
The aim is therefore to co-create with 100 street children, accompanied by HIT, 10 murals in Lomé, two of which have already been completed. These murals for the marginalized populations of Lomé will make it possible to continue the awareness-raising work which today does not reach the entire population.
Indeed, these measures do not cover the entire population, especially in Lomé. The majority of campaigns are conducted via the Internet, social networks and awareness posters which are unattractive, difficult to read or unevenly distributed in the neighbourhoods.
Target group :
Children in street situations "because they are the forgotten ones of this crisis". More than 3,000 of them live in Lomé and are therefore deprived of care within their family environment or in specialised care structures.
But also, people who are far from the prevention panels, people who are not connected, people who have no access to television, and people who have little or no command of the French language are today far from this awareness. Marginalized people are therefore the priority of this project.
Activities :
Co-creation of murals by children in street situations, accompanied by Hälsa International Togo and the artists of the Logone Graffiti Crew, for prevention and awareness of barrier gestures through :
100 children work with health and education professionals around the prevention of COVID 19.
Street children benefit from initiation to drawings and artistic professions. They draw and outline the main prevention messages that they feel should be adopted.
The artists are inspired by the drawings produced by street children to build models for the murals.
Young people have the opportunity to participate in the realization of the murals.