Who I am and where do I talk from ?
I was born in Paris in 1972. My father was an electro mechanician engineer and my mother a former pianist. I am her fifth child arrived ten years after the 4th one.
My mother's father was jewish Ukrainian and left Trembowla in Ukrainia at the age of 12 in 1907 to become a tailor in Vienna. Henoch Zimmet vel Leuchnern then crossed European countries where he learnt history, geography and the language of each country, to finally arrive in France in the 20′. He was an individualist anarchist and spent ten years living in hotel rooms without paying his taxes. He met Raymond Duncan in Vienna as well as other anarchists. In France he was part of la Bohème and friend with Fujita. During the war he refused to subscribe to the lists of Jews and refused to wear the yellow star. It saved them from the raffles in Paris. He was also a resistant but remained pacifist, even after the war when he was told that 50 people of his family died in Ukrainia. They almost all died during what is commonly called « the Shoah by bullet » during the Russian nazi campaign, one bullet per person and then buried – still living – in mass graves. It is said that the earth was still moving with people finishing to die under…
Henoch Zimmet vel Leuchnern became Henri Zimet and gave to my mother a very uncommon education for a young girl of her generation in the 40's. She learnt how to read with Epictete and Marc Aurele, she learnt music and was part of « The musical youth » and subscribed to the French Comedy, she was also going to some philosophical meetings hosted by Raymond Duncan. She was allowed to only go at school in the morning in order to play piano the rest of the day. She became a concertist and then, suddenly, stopped playing piano. There are multiple stories explaining why she stopped playing piano after receiving one of the most honorific piano prize (Grand Prix de Bruxelles), but she stopped and became the mother of 5 children.
She is a feminist, a militant of many causes, she is also a left side catholic as her father insisted to baptize her in order to hide he was Jewish and to protect her and her future family from being injured. At the age of 3 on her father shoulders she demonstrated during the Popular Front. This rebel attitude remained in her character even if she kept complaining all her life about the fact that she never worked « because your father didn't allow me to do so ».
My father Georges Arvers was born in Gafsa, in South Tunisia. His mother Jeanne Xiberas was Maltese but had the French nationality as her Maltese grandfather migrated from Malta Island in the 19th century to Algeria, in order to get the French nationality and then came to Tunisia and settled there. My father's dad Gaston Arvers was French coming from Saumur. Gaston Arvers was sent to a military camp in Algeria and was writing for one of his illiterate friend who had a writing correspondent in Tunisia. His friend died and my future grandfather went to Tunisia to announce it to his friend's correspondent. He ended to marry her and learnt the job of railwayman.
Hygienic conditions were, I guess, too hard for him and he died 4 years after. My father's mother remained alone and began to work in a Tobacco shop. To be able to take in charge her two children, her sister and her mother, she was giving the popular soup and was very respected with a very strong character She then bought a little bar and transformed it into an hotel. My father's grandmother was very well known in the ksar (village in Tunisian) as « La Maltia ». As a catholic devote, she adopted two children who escaped from slaves caravans coming from Mali. They stayed in the family, grew up and married together and had children, one of them grew up with my father : El 'eidi. They were taught as milk brothers. At that time, the racism against black persons was huge amongst Tunisians.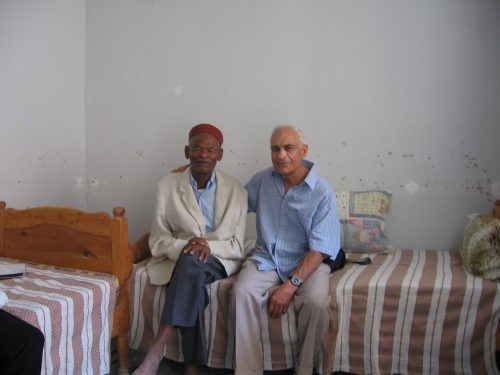 My father and El ' eidi in Gafsa, Tunisia, 2001[/caption]
Jeanne, my father's mother was once stabbed by a Tunisian before the WWII but survived the attack while declaring a diabetes. When the nazis arrived in Tunisia in the 40′, my father's mother tried to escape to France but the French refused to take them in the last train that brought back French people to France, as there was no more « real French » in this family. To survive, they were hidden in a hole by the Malian family during almost one year. That's during this period that his mother committed suicide by eating sugar, as she was suffering too much from diabetes and at that time there was no insulin to cure diabetes.
At the age of 11, my father became the man of the family, his haunt was in charge but he had to work in the hotel and could only study while he took care of the beasts. During this period, they had to make their own shoes, create glasses from bottles, etc. He had to struggle to survive as an orphan. He got his first book at the age of 18. He was sent to France at the age of 20 and attended an engineer school in the suburb of Paris where he met my mother, living in front of his school. He arrived by boat in Marseille. My father's haunt is assassinated in the same conditions that his mother (stabbed to steal the daily income from the hotel) in 1957.
My mother and my father share a lot of violence and deaths in their both families and a negative vision of what is outside the family. The world outside us is bad, dangerous. What is inside the family is good.
At the age of 5 one of my brother abused me. Very early I hated my woman's condition and refused all the behaviours and believes related to my female condition. I was a tomboy, hated dolls, hated girls conversation and attitudes and felt very early apart… Because my father's job obliged us to move every 4 or 5 years, I was always a stranger and had to struggle because I was always coming from somewhere else and different : a stranger. The only location where I didn't suffer from being a stranger was in Switzerland, where we stayed only three years. There, I was respected mainly because I was good at school.
When we went back to France, in Burgundy, beginning from the first day of school I was beaten. « We don't like your face, we gonna hit your face » I was called « the Swiss girl ». We had to complain in order to let me free from being insulted or beaten in the bus that was bringing me to school. Even a black girl slapped me once and asked me to go back to my « country ». I stayed in Burgundy 5 years and spent all my teenage hood there. I call this period of my life : my « 14-18 war » A war against myself, a war against men, against boredom, a war for my self reappropriation, a war for mind freedom and the fight to get the right to my difference.
What I did during this period was to reclaim the right to self dispose of my body and the right to choose what I am doing with my body and with whom. I used to be commodified. I commodified men. Besides I was abused as a child, what constructed my personality is deep feeling of feeling apart, not belonging to any system and in the eager of being free from any constraint.
When I was 8 years old, my sister's best friend, Fifi invited us one day to eat some Spinach chicken, a Senegalese recipe. I remember that her sister passed few minutes and discussed with us. She was a famous model, here name was Katoucha. That's the first time of my life I heard about excision and asked about it and what it meant. But what I remembered pretty well is the disagreement between the two sisters, one was totally against excision and the other was absolutely for excision. I understood that day that there isn't a unique truth.
During my childhood and my teenage hood, my mother organised many intercultural book exhibitions with books written in al the languages of the communities living there. I was also soothed by stories from the desert, tea ceremonies, insect invasions in the desert, my father being a very good storyteller influenced by his life in the deep south Tunisia. I was also soothed with fairy tails from Africa, India, thanks to my mother. My tastes then for literature were only directed towards abroad literature. I even thought that I didn't like French literature to which I preferred Russian, Latin American, Jewish American, Italo American literature. The only French writer I really enjoyed was Balzac, as he wrote several books about androgynes and ambiguous identity (Seraphita, De l'autre côté du miroir) So my imaginary was built on abroad literature and stories from Ukraine, Austria, Malta or Tunisia. I always felt awkward when I had to say « my ancestors the Gallics », for me the image of France towards my family story has always been ambiguous and contrasted.
As I previously said my mother regretted all her life not to play piano and to be « only » a mother. She was always warning my sister and I not to mimic her and to study in order to be autonomous from men. She had a very negative discourse towards men, she was a feminist from the first hours, part of Le Nid, the non profit organisation dedicated to the support to prostitutes. She is also a supporter of feminist movements in the 70′. At the age of 16, my mother offered me a ring who belonged to her step haunt, half-sister of my grandmother who was placed very early in host families in the countryside and raped twice before the age of 12. She also was a feminist and my mother was always giving her as an example of an autonomous woman who succeeded to take her revenge from men by benefitting from them without any love.
This figure really meant to me as well as the figure of my grandfather who could speak many languages, anarchist, pacifist, philosopher and traveler. The most important concept I received and kept from my grandfather's stories is mind freedom, autonomy of thinking, to have no god, no master and refuse any kind of dogma, any system and preserve my freedom to think what I want and to behave like I want. Despite where I come from, the fact I am a woman, despite what happened to me. My life is a quest for freedom.
The other women figures who moved me as a child were my Maltese grandmother and great-grandmother and haunt in Tunisia. They had to deal with life alone, without men. They looked like rocks to me when I was a child, very strong and tough.
My trust in men was very damaged but I didn't feel good with most of the girls as I didn't feel like them, I didn't like conversations about men, beauty, clothes, etc. So most of my friends belonged to the margins of the society. I didn't feel good with mainstream people, or with the so called « normal » people. I only felt good with the left apart from the society and with all the minorities : gay people, bad boys, bad girls, homeless's, blacks, arabs, travesties, sex workers, etc. I was totally attracted by the street culture and life in the streets. Musically I loved mixes of influences and black music, My friends were more from the suburbs than from school. When I studied political sciences in Aix-en-Provence, all my friends were in Marseille as I was part of the hip hop movement and the graffiti scene as well as part of the Rave party movement, making some decorations for parties in Montpellier or Paris. If there are influences in my curator background there are in political science, hip hop and rave culture where I discovered for the first time digital images with fractals. My political sciences studies taught me that power dirties everything and if I want to be active it is not thanks to politics but thanks to activism. Doing things instead of saying things, trying to change the way it is by acting,
I decided to work in the new media field because I thought that interactive art would be less elitist as it implies an experience for the audience. I didn't like mind ghettos and I thought that new media would be a mix between scientists, artists, journalists. I met activists, feminists and I began to act. I met Nathalie Magnan in 1999, at a dinner after a conference organised by Art 3000, a NPO dedicated to digital art I was working for as my first paid job. On the 37 conference guests, there was only one woman. When Nathalie heard that, she said that she would distribute this information in all the online lists. ART 3000 was also organising ISEA (International Symposium of Electronic Arts) 2000 in Paris but I resigned. Instead I participated to the organisation of ISEA Off at the Fine Arts School in Paris, a women in new media day, with more than 50 women, artists, curators, to present their work and promote women in the digital art world.
Some years later we organised an other women in new media event at le Théâtre Paris Villette, with Nathalie Magnan and Anne Roquigny. So my feminism was more action related than discourse orientated. In 2000 I became part of a group of women for a free broadcast show « The Sixth sex » for the free TV of Aubervilliers. Our first show was dedicated to killing tampons and the second was related to prostitution in Paris. I was also attending a lot of events related to free and alternatives media, hacking technologies and reverse engineering. I was acting for internet freedom, privacy respect and raising awareness and consciousness. I also liked to play with rules and at the margins of the system sometimes inside the system, a political science advice… When I listened to teenagers telling me they were dreaming in video games and would prefer to have video games images at the TV, I realized video games were a very serious question, that, we, as cultural thinkers, had to take in account. I also realized that if it could shape young generations imaginaries, it was a way to influence people's mind and impose a certain way of thinking, a certain moral. That's why I decided to become an art and games curator and t promote alternative and experimental games and how artists are using games as a medium in order to produce a distanced vision of a simulacre world.
Music and movies that can be created with video games became my speciality. In my curatorial practice I tried to mix artistic disciplines because I know that richness comes out diversity, so I tried to mix music, with visuals arts, with video games. All my work is about encounters between different artistic disciplines and genres. I also always tried to promote women's artworks as much as I could. Most of my exhibitions were politically engaged or at least had a documentary aspect, the idea behind is to use the situationist principle of diverting a popular medium to spread political messages and transform games into counter fictions. The point is also to promote the diversion of technology main purpose or uses and understand the influence or proprietary technologies on the way we think and create. As if we couldn't be totally autonomous if only using proprietary soft and hardwares. I also integrated a lot of activist artworks in my exhibitions. Nathalie Magnan invited me to participate to one of the Zelig event at la Maison des Metallos, where she was holding « Changer changer » workshops, where you could learn how to fix computers if you were ready to « be a woman » at least for the time of the workshop.
My activism then passed through the workshops I imagined dedicated to youngsters from the suburbs, first, that I then opened to a larger audience. The purpose of my workshop is to transform a popular object – video games – into a mean of production and self expression. In these workshops I try to erase gender and class inequalities and give a larger access to self expression through a popular medium. Since 2010, I have been giving more than hundred workshops in France and in Canada, Brasil, Colombia, Egypt, Italia, Germany, Spain, United States, Poland. During the workshops I try to promote independent games, as I realized that people are playing to the same games almost everywhere in the world : FIFA, Call of Duty, World of Warcraft, Grand Theft Auto, etc. even in countries with a rich and diverse local culture.
In 2012, I met the art and research group the antiAtlas of borders who were looking for an art curator. We teamed up to produce 6 exhibitions and 3 international conferences dedicated to the mutations of the borders in the 21st century. We also produced transdisciplinary artworks conducted by researchers. I became the coproducer of the ethno fiction Samira, directed by the anthropologist Nicola Mai, specialist of prositution and migration, dealing with a trans Algerian in Marseille.
This collaboration with researchers was extremely rich for me, as we learnt how to communicate together and understand and work with our different perspectives and objectives. In the antiAtlas of borders, I could integrate activist counter mapping and artworks, researchers trans diciplanary works and works at the border of any possible definition or restriction. This 4 years experience brought me to the End of the Map team of la Sorbonne researchers and we produced together an exhibition's parcours, as well as a conference on counter and subversive mapping, emotional mapping and the new machines of visions, the new ways of seeing and how technologies change the way we see the world and produce new aesthetics with robots, surveillance cameras, algorithms and drones.
At the same period I also produced an interactive performance, a Biocensors game for 8 players, created by Shulea Cheang, queer feminist artist and sci-fi cyberpunk, dealing with e-waste, virus and orgasm as the last humankind kingdom. We then began to produce together an interactive cinema project untitled UKI Cinema Interrupted. Shu Lea contacted me as a games curator and transformed me into a producer. She is also part of a women and new media network Faces, I am also part of.
In October 2016, Nathalie Magnan died, few days after, during a testimonial day organized by her wife Reine Prat, we decided to pay a tribute to Nathalie's work, thoughts and archives and decided to organize an event all together, with her friends and what we began to call the « Magnan babies ». We conceived a three days program related to the actuality of her teachings about feminism and cyberfeminism, free and open technologies, hacktivism, situated knowledge, eco sexuality, with a three days conferences, debates, workshops and exhibition. It was the first event combining gender issues, feminism, open culture and hacktivism with the participation of more than 100 art students. To work on that event pushed me to better understand all the waves of feminism, trends, counter trends and as Nathalie used to be the assistant of Donna Harraway, I better understood her books thanks to a workshop by Helena Torres, on how to read Donna Harraway, giving us some keys of lecture of the Chtulucene manifesto.
We also decided with the artist Chloé Desmoineaux to organize events to promote video art and indie and experimental games in a party, first in Marseille and then in other cities in France and I finally organized a special edition in Medellin, during my residency in Platohedro. With Art Games Demos, we tried to unite the indie game community and to create an encounter with art world and we tried also to focus on female creation. Two of our events were dedicated to queer and feminist games. Then I arrived in Colombia in the summer 2018, I dreamt a lot. In one of my dreams I was a documentary director working on a new documentary project about gender racism, my main character was a black trans who was a performer. When I woke up, I contacted some of my friends to ask their point of view about that dream and about the idea of « gender racism ». What is interesting is that I also dreamt of Nathalie encouraging me to go on with this idea.
One of my friends Aniara Rodado advised me to look at the work of Fannie Sosa and Niv Dacosta who were presenting at that time their Black power naps. I loved so much their work and their interviews that I immediately contacted them, asking to get in touch. The first answer I received from Fannie Sosa's assistant was : « great project, contact us when you will have a budget ». I replied that I was a bit surprised to need a budget to « get in touch » with her. The answer came from Fannie Sosa directly and was hyper aggressive and disdainful : « You cannot direct or produce a documentary about race and gender given it seems you are not willing to recognise how Black femmes are structurally impoverished. You dreamt about it, Sosa lives it every day AND night.
So yes. A budget to start a conversation. It is your place as a white European citizen to not demand for free labor. You are a colonial settler descendant. Locate your place in this economy if you want to fill your mouth about gender and race. Sosa is a professional and not a pick a brain nanny. Do better and please refrain from contacting Black and queer artists demanding free labor EVER again. « 
It was quite hard for me to receive this email, I felt aggressed personally and found it profoundly unfair, knowing….knowing that if you don't know me personally, you don't know anything about my life, who I am and where I come from. Of course, I always hidden my roots and the abuse I was victim of. Also, if you don't know my story, you cannot know how much I suffered from being a stranger, how much I suffered and my ancestors suffured from racism. I am not black, but things aren't only black or white and the settler is not always the one we believe. That's true because my grandfather decided to hide he was jewish and our jewish roots, I integrated it as a fact and was always afraid to say it publicly as I totally integrated the fear of being killed for my blood, not my colour, but my genes, me blood. I never told publicly I was abused because I was afraid of looking like a victim or an easy girl. But what happened in my life built who I became, influenced my work, my choices, my network, my friends, etc. But that's true I am not black, however, in the first machinima I directed about identity and otherness in video games, I am a black guy, talking with my voice and my multiple identities hidden under a French name. Because for me it was really hard to have felt all this racism during my child and teenagehood and to understand how much my family from both sides suffured from not being the right nationality or not having the right blood and not to being able to speak about it, to also silence it because I am not an afro descendant, because I am a mix hidden under a white skin and a French name.
And yes I recognize and aknowledge the priviledge of being French and white as I am now traveling the world for my art and games world tour project focusing on queer, feminist and decolonial practices. Because I have a passport that allows me to travel around the world. So I will try to use it the best I can to hear and promote non white queer feminist and decolonial voices and thoughts and artworks and games and follow my grandfather steps by being free of any constraints. It is not a touristic journey, I don't go to fancy hotels nor visit any sight seeing places, I am just meeting and interviewing artists and game creators who propose counter fictions and offer a counter hegemony. Because I don't pretend to think for the others, I am just listening and transmitting what they say and create and hope that we can find all together strategies to counter fight with soft power tools the "hegemonic discourse" (Djamila Ribeiro 2017) and make all voices matter and visible.
Isabelle Arvers 2018 2021