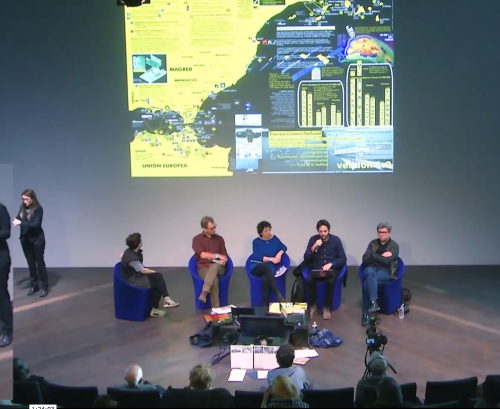 From 16 to 18 March 2018 an exceptional event was held at the Mucem in Marseille: TRANS // BORDER, The Teachings of Nathalie Magnan. The event brought together 46 speakers from several countries in Europe and from the United States and received more than 3,500 participants at preparatory workshops (March 12-15), an exhibition, three film sessions, one VJ-ing party and seven round tables.
Each round table, attended by 200 to 350 people, was the scene of animated and sometimes heated exchanges between the speakers and with the audience on often complex current issues that everyone wanted to better understand and make their own.
You will find inclosed the first two issues of the magazine that presents the video recording of the round tables in their entirety and in the original version (English or French), plus the Ecosex evening. The magazine reveals the echoes we can find today among many artists, activists, scholars and researchers of the work of this media theorist and activist, film director, navigator…and feminist.
Nathalie Magnan's last act was to draw attention to those who, every day, try to cross the Mediterranean at the risk of their lives. To fulfill her wish, we solicit your support for the sea rescue organization SOS MEDITERRANEE: http://bit.ly/2hpvb9Z.
Number 1
Contemporary private archives: what process? what future? – Friday 16 March 2018, 11 am – 1 pm
N°1 Archives privées contemporaines : quel traitement ? quel devenir ? – vendredi 16 mars 2018, 11h-13h from De la Mule au Web on Vimeo.
Concept: Reine Prat (general coordinator of the event); speakers: Emilie Blanc, Adam Evrard, Valentin Gleyze and Adelin.e Leménager (PhD students, Rennes 2 University), Elvan Zabunyan (historian of contemporary art, professor, Rennes 2), Ewen Chardronnet (artist, curator), Alain Carou (BnF), Catherine Gonnard (Ina), Catherine Lord (artist, writer)
After the screening of the short film made by Christophe Ecoffet "Nathalie Magnan, media theorist", Cyril Thomas and Gilles Beaujard explore the boundaries of gender and the major role played by Nathalie Magnan in the teaching and dissemination of North American feminist and queer thought in France. This introduction is concluded by Elvan Zabunyan who talks about his meetings with the media theorist. Ewen Chardronnet offers a presentation of Nathalie Magnan's archives using the data visualization tool Zotero. Catherine Gonnard speaks from the dual point of view of documentalist at Ina and activist involved with feminist and lesbian archives. Alain Carou describes under what conditions the BnF will host her archives and endeavor to highlight their different dimensions. Catherine Lord returns to the specificities of the LGBTQ archives and presents a slide show of the activist selected from some 25,000 personal digital photographs, which arouses a strong emotional response from the audience.
Number 2
Frontiers and technologies in the Mediterranean Sea – Friday, March 16, 2018, 3-5 pm
Control technologies and the law at sea
N°2 Les Technologies de contrôle et le droit en mer – vendredi 16 mars 2018, 15h-17h
Designer, moderator: Isabelle Arvers (curator); speakers: Violaine Carrère (Gisti), Malin Björk (MEP), Charles Heller (Watch the Med), Erwan Follezou (SOS MEDITERRANEE)
The segment opens with the screening of an excerpt from Sailing for geeks 2, a project initiated by Nathalie Magnan. The speakers recall that the sea is governed by maritime law and explain how states have made themselves not answerable to law in the war they are waging against people fleeing their country to seek refuge in Europe. In such a context, civil society organizes and mobilizes all kinds of technologies to come to the aid of people in danger but also to testify, determine responsibilities and try to enforce the laws. We are in March 2018 and already it is evident the situation is getting worse.
Number 3
Frontiers and technologies in the Mediterranean Sea – Friday, March 16, 2018, 5 – 7 pm
Alternative and open source technologies
N°3 Les Technologies alternatives et open source – vendredi 16 mars 2018, 17h-19h from De la Mule au Web on Vimeo.
Designer, moderator: Isabelle Arvers (curator); speakers: Nicola Triscott (Arts Catalyst), Pablo de Soto (Hackitectura), Tim Boyckett (Time's Up), Marthe Van Dessel (Seed Journey Project)
The first two speakers were involved in Sailing for geeks 2, a sailing and internet project initiated by Nathalie Magnan in the Strait of Gibraltar as part of Fadaiat. Their testimonies make it possible to understand the concrete experience of the difficulties with navigation in the strait and the technologies of counter-surveillance, until contact was established in Tangiers with groups of Moroccan activists. Then comes description of the projects Time's up (use of older navigation technologies for ecological reasons); Seed Journey, a reverse migration of seeds (from Europe to their country of origin) aiming to resist industry patents by promoting access of small growers to the commons; and the piracy of the magnetic wave field project (BolwerK) compared to manual seeding techniques.
Number 4
Zelig RTM – (H)acktivisms: information always wants to be free
Active tactical media communities today – Saturday, March 17, 2018, 11 am – 1 pm
N°4 Zelig RTM – (H)acktivismes : l'information veut toujours être libre – samedi 17 mars 2018, 11h-13h from De la Mule au Web on Vimeo.
Design: Peggy Pierrot (independent researcher), Philippe Rivière (journalist); moderator: Peggy Pierrot; speakers: Geert Lovink (media theorist), Aris Papatheodorou (Samizdat Network), Philippe Rivière (journalist), Marie Lechner (Gaîté Lyrique)
Peggy Pierrot recalls the genesis of the Zelig meetings at the beginning of the 2000s, which made it possible to develop an alternative discourse to the dominant media's and to create "tactical media". Nathalie Magnan's short film Internet users is projected. The speakers then discuss the need for "network networks" to develop critical discourse, strategic actions (extracting from the cloud, creating open source platforms, taking up the challenge of an open web), dialectical positions (link between machines / uses and identities / subjectivities), equal networks of peers, all against GAFA. There is also talk of intergenerational bridges and preservation of independent places, including some initiatives (Monday morning, Rebellyon, Seenthis, Mastodon, Framasoft, Chatons, Ronja, Mesh, Guifi, Freifunk, Athens Wireless Metropolitan Network, Consume.net, Call, etc.) that are examples.
Number 5
Zelig RTM – (H)acktivisms: information always wants to be free
Freedoms and surveillance in the digital age – Saturday, March 17, 2018, 3 – 5pm
N°5 Libertés et surveillance à l'ère numérique – samedi 17 mars 2018, 15h-17h from De la Mule au Web on Vimeo.
Design: Peggy Pierrot (independent researcher), Philippe Rivière (journalist); moderator: Peggy Pierrot; speakers: Nicolas Malevé (artist, developer), Seda Gürses (researcher), Jean-Marc Manach (investigative journalist), Vladan Joler (teacher at Novi Sad University), Rayna Stamboliyska (consultant and independent researcher)
After the performance by Anne Laforet, regarding Chelsea Manning, on gender and trans-identities, Peggy Pierrot presents Nicolas Malevé's pre-recorded talk on the ethical and political questions posed by facial recognition (algorithms and software that propagate stereotypes and allow GAFA to manipulate users for commercial purposes). The speakers who follow take these points further by encouraging a critical observation of surveillance systems, self-powered by the same users, in order to study them (especially Facebook) and to circumvent them (anonymity, false geolocation, demystification, the level of surveillance and the figure of the hacker versus the vandal, investigation of their construction and operation, precision of the vocabulary used).
Number 6
Zelig RTM – (H)acktivisms: information always wants to be free
The critical Internet, between (dis)illusions and speculations – Saturday, March 17, 2018, 5 – 7 pm

Concept: Peggy Pierrot (independent researcher), Philippe Rivière (journalist); moderator: Peggy Pierrot, speakers: Jacques Servin (The Yes Men), Valentin Lacambre (pioneer of the Internet, co-founder of gandi.net, altern.org), Alex Hache aka Spider Alex (Gender and Technology Institute), Patrice Riemens (geographer)
In her opening, Louise Drulhe presents her "critical Atlas of the Internet", which can also be consulted in the exhibition. Most of the work then focuses on alternatives to and diversions of mainstream uses and on the resistance to be put in place: the Yes Lab lists ineffective attempts to fight against terrorism and makes the link between memories of colonization, ex-colonized and ex-colonizers, terrorist attacks and the refugee crisis; the dystopia of land colonization and food automation by GAFA; in contrast, the diffusion of utopias, including those advocated by feminists, cyberfeminists, who resist multiple forms of violence; the imagination of a new way of inhabiting cyberspace.
Number 7
Very Symbiotic! For situated knowledge – Sunday, March 18, 2018, 3 – 5 pm
Humans, machines, rivers, algae and marine worms: towards a new symbiosis?
N° 7 Very Symbiotic ! Pour des savoirs situés – dimanche 18 mars 2018, 15h-17h from De la Mule au Web on Vimeo.
Design: Chloé Desmoineaux (artist); speakers: Xavier Bailly (research engineer), Ewen Chardronnet (artist), Vinciane Despret (philosopher, pre-recorded interview, present at the debate via Skype), Emilie Hache (philosopher), Jean-Paul Fereira (Mayor of Awala-Yalimapo)
In the morning, the screening of Fabrizio Terranova's film Donna Haraway: Story Telling for Earthly Survival serves as a very useful introduction to the round table that begins with the screening of Nathalie Magnan's short film Donna Haraway Reads the National Geographic of Primates produced 30 years earlier. After a minute of collective breathing proposed by Chloé Desmoineaux, the first two speakers lead the discussion towards the desacralization of symbiosis, the need to live together to adopt holobionts and to favor the coexistence of verticality and horizontality. Then, through Vinciane Despret's recorded interview, exchanges begin on the relationship/proximity between nature and culture, between humans and animals, between dead and alive and on the need to oppose a new vision to the (centralist) anthropocene, the chtulucene (multi-species-ist). Émilie Hache then develops the concepts of ecofeminism and ecosexuality discussed during the Ecosex evening. The critical description of Guyana, its colonial and political history, its geography, the interactions between its populations, its river, formerly its trade route and today its disputed border, closes the round table.
Number 8
Ecosex evening – Friday March 16, 2018, 8:30 pm
N°8 Soirée Écosex – vendredi 16 mars 2018, 20h30 from De la Mule au Web on Vimeo.
Design, presentation: Isabelle Carlier (Bandits-Mages); speakers: Paul B. Preciado (philosopher), Erik Noulette (Emmetrop)The evening, devoted to the screening of Beth Stephens' film with Annie Sprinkle, Goodbye Gauley Mountain, is introduced by Paul B. Preciado who explains the notion of ecosexuality as a radical critique of political economy and normative ecology. He reviews Annie Sprinkle's career in pictures. Erik Noulette uses images to focus on four key moments in the artistic and activist work of Annie Sprinkle and Beth Stephens, which he organized or participated in.
« TRANS//BORDER, Nathalie Magnan's teachings », is a Kareron production, in partnership with le Mucem, Bandits-Mages, De la mule au web. A coproduction ZINC – Arts et cultures numériques and Reso-nance Numérique, in the frame of Risk Change, cofinanced by the programme Europe créative from the European Union.
With the support of DICRéAM-CNC, City of Marseille, Ministry of culture (DRAC Provence-Alpes-Côte d'Azur et DGLFLF-Fonds Pascal). Regional Council Provence-Alpes-Côte d'Azur. And the French National LIbrary, Audiovisual National Institute, FRAC Provence-Alpes-Côte d'Azur, Opera mundi, Jeu de Paume (Paris), Générik Vapeur, FAI-AR, FIFF Créteil, Centre LGBT Paris ÎdF, ESAAIX, ENSP Arles, ENSA Bourges, ERG Bruxelles, Ateliers des horizons Grenoble, ENSBA Lyon, ESADMM Marseille, ESA Lorraine, Villa Arson Nice, ESAD Saint-Étienne, HEAR Strasbourg, le programme de recherche Migration/Murmuration (EESI Poitiers-Angoulême), ESAD Toulon Provence Méditerranée, ESÄ Tourcoing-Dunkerque, Université Rennes 2, L'École(s) du Sud.