Atelier au Collège Iqbal Masih en Plaine St Denis – de janvier à avril 2013
Atelier Machinima : dialogue avec son double virtuel/ Dialog with your virtual double
Avec Clyde Chabot de La compagnie Communauté Inavouable, metteur en scène et Sébastien Rousset, artiste sonore / With Clyde Chabot, director and Sébastien Rousset, sound artist
Un atelier machinima dans une classe de 3e au Collège Iqbal Masih dans lequel les collégiens ont écrit un dialogue entre eux-mêmes et leur double virtuel en s'inspirant du texte de Médée écrit par Clyde Chabot avec une prise de son réalisée par Sébastien Rousset. / A machinima workshop in collaboration with a Theater Director in order to produce a diolog between a virtual avatar and a teenager on the basis of the Medea text written by Clyde Chabot.
Représentation sur scène des collégiens avec leurs doubles virtuels au Vent se Lève, Paris, le 23 mai 2013. / Public representation on stage by the teenagers at Le Vent se lève, Paris, 23d May 2013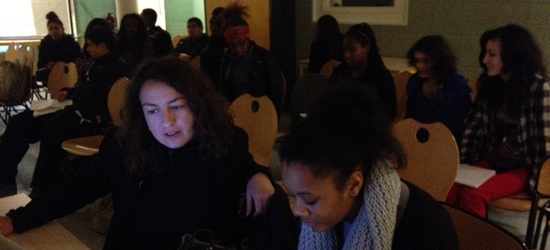 Clyde Chabot, auteur et metteur en scène et Isabelle Arvers guideront les élèves dans la création d'un dialogue entre eux et leurs doubles virtuels à partir du texte de Médée. Clyde Chabot insufflera les prises de paroles et témoignages des élèves. Isabelle Arvers interviendra ponctuellement pour présenter les avatars et inviter chaque élève à créer le sien. Composer des récits personnels autobiographiques et à choisir des textes littéraires et des œuvres plastiques parmi ceux étudiés au collège pour se représenter. La thématique de la naissance de l'amour au moment de l'adolescence sera au cœur du projet. – interpréter avec le metteur en scène Clyde Chabot les textes qu'ils auront écrits ou choisis pour l'enregistrement de certains textes en vue de leur insertion dans le blog et pour la présentation théâtrale finale. – à réaliser des photographies ou à en choisir sur des sites libres de droit pour se représenter – à rechercher des correspondances entre œuvres littéraires et plastiques pour se représenter.
La restitution, temps de clôture du projet : Le projet débouchera sur une présentation publique de l'expérience le 23 mai au Vent se lève.