WJ-S is a project created by Anne Roquigny and developed by Stéphane Kyles. Anne Roquigny is a media art curator who sees the web as a space for creation. In 2005, she developed the idea of a tool that could allow people to play different online contents simultaneously, and to diffuse these contents on screens in order to "immerge" the audience inside the images and the sounds of the web, diffused on large screen.
WJ-S is new word, that refers to the idea of the DJ who play live music or the VJ – also called Video Jockeys – who are playing live video, synchronized with the music in parties. A WJ-S – web jockey – can play music, he can play video, he can play animation, text, sounds, because he is "playing" with all the online contents of the world wide web: he shows websites, online animations, online games, online videos, online texts…. The web jay has the whole Internet network in its hands and under its mouse to play with.
Anne Roquigny would say that a WJ-S is playing with the giant hard disk that is Internet! Which is true, Internet is such a resource for artistic contents, but not only. You can  take any theme, idea, concept, sentence, word: Internet has an answer for it in text, video, images, sounds, music, animation…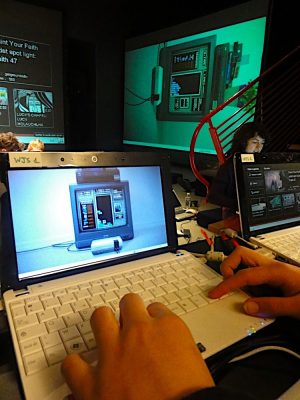 As a software, WJ-S is quite simple to understand and to use: it is a bit like a web regie, where one computer controls other computers and send them content in real time.
Each content is "playable", which means that it is possible to interact with different websites in real time thanks to one interface. In one window, all the links to the websites one want to show are listed. On an other window, all the computers related to screens and controlled by the main computer are listed and it is possible to select one of them or many of them or all of them at the same time. Then, there is a window that allows the web-jay to interact with one screen, or in other words, with one website diffused on this screen.
WJ-S is not only a tool, it is also a device. A technical device: computers connected to screens. A scenic device:
Invited by Romaric Daurier, the new director from le Théâtre du Phénix, Scène Nationale, we are now with Anne Roquigny, giving a workshop  with art students and youngsters of the region. The workshop is followed by two public performances presenting the work done during the workshop with the participants on Feb. 16 & 17 2011. Each workshoper will be browsing for 5 minutes through his selection of websites on the multi screen environment. The workshop is a privileged moment for exchanging with other artists, it creates emulating and rich situations where different artistic approaches are confronted.
Each participant to the workshop comes along with its universe, its personality. For instance, Geoffroy Dedeni is playing with contents of trance, witch house – with a band like oOoOO, indus images. Thanks to him, I discovered this new music movement that deals with slowing the rhythm of hp hop songs or Lady Gaga and Britney's songs. The result is very special and this witch house music puts you in a strange state of mind. He also showed me a very good Japanese game : Karoshi and the Suicide salary man.
Then, a duo composed by Rémy-André MEREAU and Youcef BOUDIB made me discover a super good tetris game : firstpersontetris.com Their performance deals with the idea of screen and mixes Charlie Chaplin, South African hip hop and Gameboy music. Then, Raphaël WICHER is performing his autobiography : as a game addict, his performance deals with game addiction and MMORPG.
Finally, Carine Bail, an art student in Cambrai, showed me the vidéo of Mortal Engine, a dance production by the choregrapher Gideon Obarzavek who Works with light motion, captors and vidéo in a very délicate manner.
For these two performances, I will play websites and online artworks related to psychogeography, emotional mapping and data visualization, using sounds and music of soundwalks in the city.