Gamerz #6 – Aix en Provence, 3-19 december 2010
On the 3d december, the 6th edition of the Gamerz Festival will open in Aix-en-Provence. For the third time i will be the co-curator of this event, even if my participation is often concentrated on the selection of abroad artists related to the idea of gameart and also to machinimas.
This year, i wanted to work again with the artist Fran Ilich, the first time we did something together was in 2004, for a net.art exhibit that i curated for the festival Banana Ram in Ancona in Italy. Fran created for this occasion an interactive fiction based on the idea : what can we do when there is no more television? This year, Fran offered me to think about a game created for the Zapatista cause. Still yet I don't know which form this game will take but i am impatient about it.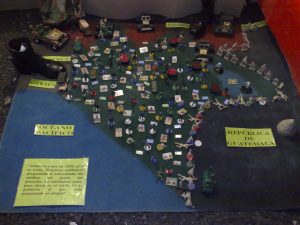 Also I curated a new program of machinimas, mostly artistic or experimental, critics of the social networks or the result of live performances…
Here is the program, see you there!!
Pasamontañas: a videogame, by Fran Ilich, (MX) 2010
It seems that cinema has a waning effect on society, documentaries become more like another form of entertainment than a spark for change, and so, the Fiction Department wants to start the enterprise of creating a Zapatista videogame.
We don't know yet what will the be the genre of the videogame or what form it will have: simulation, adventure, shooter, rpg? we don't know if the videogame will aim to create an existential crisis, to serve as propaganda, to educate adherents or if it will serve to look for solutions.
The project is the project itself, meaning the mission itself is the work-in-progress of creating a videogame that works for the interests of the otra campaña zapatista.
And all this process will be accesible via a website, where people can collaborate with animations, maps, sounds, videos, etc.
*translation: (passe-montagnes / ski-mask)
Machinimas as a political or artistic "detournement" of video games
By using virtual spaces and changing the perspective as an artistic strategy, machinima allow a distanced critique of a simulated world. They tend to erase the boundaries between reality and fiction and redefine the transgressive power of the game. "There, where the real world is changing into simple images, simple images become real human beings and efficient motivations for an hypnotic behavior."* They reactualize the Situationist conception of cinema, in which images, voices in dialogs or interviews or voice over, act as different layers of content. And in the purest hacking tradition, machinima can be perceived as a « detournement » or a diversion of a mass media to become a mean of expression, political or artistic
Pattern Island, Participation and Google Stooge are a critic of a consumer society and its wild race to technology while losing its privacy, Maxmiptex and MissileCommand are a diversion of the gameplay by a disintegration of the code that produces universes, either during performances of Livecoding, or through a bad technical manipulation from which emerges a work that reminds the first manipulations of the cathode ray tube by Nam June Paik. Moon, Romantic Interludes, Kamikaze and Sphere are more like moving paintings, William Fink's sphere even reminding Edvard Munch's shout with its hallucinatory visions. Time collapsed and machinima was there to fix that poetic and particular moment.
Isabelle Arvers, 2010
* Guy Debord, The Society of the Spectacle (Paris, 1967)
Google Stooge, Phil Rice, (US), 2009, 4'26
A solution for today's eco-conscious users, especially for those disenfranchised by the T-Mobile Sidekick data loss debacle. Technology that is appealing even to those who are anti-technology. It's much more than a Sidekick… it's a friend.
A satire on the techno-obsessions of the modern world, with a tip of the hat to Jonathan Swift.
Created with Moviestorm and a variety of other tools used include: the virtual world of Second Life (www.secondlife.com), Reallusion's CrazyTalk Pro v6, and ZenCub3d animation software.
‪
MooN – spyVspy Aeon, SlimGirlFat, (PT), 2010, 3'55
"Production is the result of a collaborative work between SlimGirlFat (Real life/Second Life musician) and spyVspy aeon (Second Life Machinimator/producer). It is nothing more than a thought caught in nowhere place nowhere in time, some sort of a let it flow, built from the scratch, we just set it just how the music guided us. Wefd love to see more collaborative work between Machinima makers and Indie musicians (using Second Llife) as projects like this, gain us more and more exposure out in the Real World, making this a good way to low cost and efficient productions."
http://www.youtube.com/watch?v=F469C19a-Xw&feature=player_embedded
Sphere, William Fink, (SE), 2010, 1'36
Sphere is a short Machinima film set in an obscure hallucinatory world. It revolves around the relation between a woman and a man, colors and emotions. Music crédits : "Shuffle" by Electric Noise Controller, "Hallucination", "Descent of the Fallen I" by Darren Lock, "Dronescape" by Jovica, "Chimney_fire" by Reinsamba
http://www.moviestorm.co.uk/community/index.php?page=videos&section=view&vid_id=104580
Participation 0.0 – Part I, Linda Hilfling, (DN), 2007
"Participation 0.0 – part 1" is a travel through the Terms of Service, through Second Life. Revealing a ghost-like space: empty streets, empty playgrounds, empty shopping malls and empty houses for rent – a virtual suburbia enforced by a strict regulative framework. The video is a documentation of an action from 2007, where SL's Terms of Services was broken down to quotes an displayed on 112 billboards installed throughout the virtual world. When a user discovered that one of the billboards had been placed on his so called 'private land', he expelled me from the property and thus the intervention was interrupted: end of film.
http://project.arnolfini.org.uk/dump/antisocial/participation/index.html
Max Miptex: Glitch Machinima, Julian Oliver, Chad Chatterton, (NZ), 2001, 6′
Max Miptex is the symptom of a strategic intervention between an operating system (Windows XP) a computer game (Half Life) and a graphics card (Hercules, Kyroll chipset). It was discovered and promptly exploited by Julian Oliver and Chad Chatterton in 2001 after forcing the hardware to run using the wrong graphics drivers. At first we thought the game had hung. Then it twitched into action, revealing what appeared to be a shattered version of the arena we'd tried to load. We hit the strafe key and fragments of toothy texture peeled around our dyslexic virtual camera. To our joy, the entire arena then peeled into sensuous, gradated triangles. http://selectparks.net/archive/maxmip.htm
Kamikaze, Les Riches Douaniers, (FR), 2010, 11'02
The "kamikaze" movie is the story of a person hitting a girl that is stopping him from climbbing on a ladder. He is climbig on this ladder all sheaking: then he looks down to the town on the top of the tower and ultimatly jump into the void, provoking an explosion. There is no dialogue, but a notice at the end of the movie says : "Mission accomplished. The kamikaze will be rewarded in heaven".
http://www.karapika.com/machinima/kamikaze.htm
Romantic Interludes, 5 X 30sec, Pal, Frédéric Nakache, (FR), 2007
These video sequences are a reflection on the notion of Romanticism, in this day and age when computer-generated images are regarded as one of the territories of utopia. The "Romantic Interludes" work as animated pictures; they take up the representation of the romantic hero in front of a landscape which is propitious to meditating. The romantic universe is transposed into the utopian world of digital images. The rebel romantic hero is embodied by the skater, a figure of the urban contemporary counter-culture.
http://www.fredericnakache.com/index.php?L=0&N=4&C=4&A=12
Abstract Livecoded Machinima (Missile Command), David Griffith, (FI), 2009, 11″16
In this animation, a perfectly good computer game is progressively
destroyed, it's shapes and sounds re-programmed in front of you.
Livecoding is programming as thought process, writing a program as it
runs. Machinima is the use of game engines to make film.
This film/animation/game is a homage to Missile Command by Atari. Inc
1980 using Fluxus, a 3D game engine for livecoding worlds into existence.
http://www.pawfal.org/dave/index.cgi?Projects/Missile%20Command
Pattern Island, Benjamin Nuel, 2009, Production : Human Atopic Space, (FR), 8′
Second Life interested me when it began to be seen as an oldfashion world, when its population migrated to other platforms. The idea that we can "exhaust" a world in such a short time is fascinating. This video tells the end of Second Life seen to the interior. The servers that host parcels of land close, the world is steadily declining. " In Pattern Island, an old and ugly man crosses territories left by a digital universe threatened with apocalyptic implosion. Decline of influx and interest. The next stop(ruling) of the waiters(servers). Collapse in the measure of the exponential colonization of a promising universe as Second Life. […] Etienne Amato