Performances
Psychogeography – Data Vizualization – Emotional Mapping
Games – Game Art – Retrogaming
Neen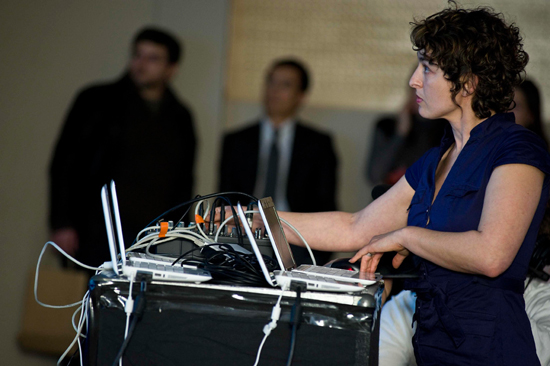 I am a Web Jay!! WJ-S is a project developped by Anne Roquigny
WJ-S is a software and a flexible public device for web performances allowing WJ-S to play live with text, sound and visual content available on line.
WJs take the control of a multiscreens environment and surf at distance in different browser windows simultaneously. WJ-S is a visible and collective experience of the surf. WJS is an immersive experience in the flux.
In 2007, Anne invited me to perfom with WJ-S for the Mapping Festival in Geneva. It was wunderful for me to have this opportunity to show net or game art in a different manner.
I have three different performances in WJ-s which I can perform alone or with a musician. A WJ-s performance immerses the audience in a subjective derive in web contents, it is like an immersion inside the content of a conference about net.art or game art. It changes our relationship to Internet that we are used to see on little screens and not immersed inside them…
Psychogeography – Data Vizualization – Emotional Mapping
A performance about psychogeography, video surveillance, urban artistic re appropriations, emotional mapping and cartography & data visualization : Scène Nationale Le Phénix Valenciennes, 2011
Games – Game Art – Retrogaming
A retrogaming performance, I play to online artgames or retrogames live with Confipop, a gameboy musician: Game art Festival Gamerz, Aix-en-Provence, 2010
I play alone 8 bit music and online art games. Museum of Fine Arts, Dijon, 2009
Same performance with 8 bit music and online art games at the Pompidou Center in 2009
WJ-S Performance by Isabelle Arvers with the online games: Nervous Game, Fly Guy and Average Shoveler from isabelle arvers on Vimeo.
Neen
I began to give some conferences while playing with the content. As I loved all the artists from the neen art movement, I did a conference/performance showing websites of Andreas Angelidakis, Mai Ueda, Mike Calvert, Rafael Rozendaal, Steven Schkolne, John White C, Nikola Tosic, Amy Franceschini de Future Farmers, Joel Fox, Marc Kremers and Angelo Plessas.
Performance about Neen art movement with websites by Rafael Rosendaal, Miltos Manetas, Angelo Plessas
Festival Arti in Citta Perrugia, 2008
Isabelle Arvers /2/ Flussi / Le arti in citta Festival / Perugia, Italia from annnnnroqqqqq on Vimeo.
Isabelle Arvers / Festival Le Arti in Citta Perugia / Italia from annnnnroqqqqq on Vimeo.
WJ-S workshops
Wjs is a software developped by Anne Roquigny. We give workshops together to students or youngsters on how create a performance through live web surfing.
Les ateliers nomades 2010/2011 > WJ's, mixer le web from lephenix on Vimeo.
WJ-S is new word, that refers to the idea of the DJ who play live music or the VJ – also called Video Jockeys – who are playing live video, synchronized with the music in parties. A WJ-S – web jockey – can play music, he can play video, he can play animation, text, sounds, because he is "playing" with all the online contents of the world wide web: he shows websites, online animations, online games, online videos, online texts…. The web jay has the whole Internet network in its hands and under its mouse to play with.
WJ-Spot
WJ-SPOTS is a series of public conferences where participants (artists, critics, thinkers, inventors, researchers, curators, organisers and producers of cultural events) are invited to look back on 15 years of artistic creation on the internet.
The 15 minutes presentations are organised within the WJ-S multi-screen environment, transformed for the occasion into a space for reflection and investigation. The online browsing through a selection of emblematic websites, chosen by the speakers, takes place simultaneously on 3 big screens.The speakers are physically present or participate in the event through a video conference program. WJ-SPOTS in an event that is webcast on the Internet, the online audience can interact with the participants on a live chat.
WJ-SPOT, 15 years of artistic creation on the internet, Paris – Strasbourg
WJ-SPOT, Berlin
WJ-SPOT, Festival Mal au pixel, La Gaieté Lyrique, Paris
WJ-SPOT, History and future of artistic creation on the Internet, Bruxelles – (Read post)
Lancement WJ-SPOT #2,La Gaieté Lyrique, Paris