Mains d'oeuvres, Saint-Ouen, 19 – 29 april 2006
Co-curator of the exhibition and workshops with Mathieu Marguerin
Pixelache is a festival of electronic art and subcultures. Pixelache presents projects experimenting with media and technology from a broad range of disciplines: artists, engineers, designers, researchers and architects. Pixelache focuses especially in presenting activities of various international grassroot networks and communities such as VJ community, media activists, open source community and demoscene. The goal of Pixelache festival is to act as a bridge between the traditional creative disciplines and rapidly developing electronic subcultures.

Pixelache festival is organised for the first time also in Paris, under the name Mal au Pixel. The festival presents a diverse program of exhibitions, performances, club events, workshops and seminars, spreading over a duration of 10 days.

Electroscape, Fabric, 2004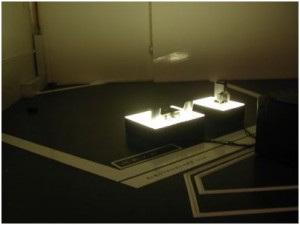 Architecture or"living room" for two artificial intelligences. Spatiality own of machines defined by their point of view (surveillance camera). Endless dialogue between two independent digital identities, without human interaction.
sCrAmBlEd ?HaCkZ !, Sven König, 2006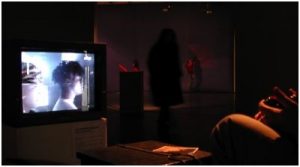 Scrambled Hackz analyzes the audio portion of a video file to determine the tempo of the incoming audio, and then slices it up into discrete chunks of a quarter note, eighth note, sixteenth note and so on (a process also used by audio editing programs such as Ableton Live and Sony's Acid software).
Burnstation, Platoniq, 2004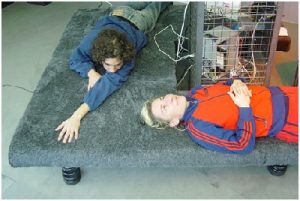 BURN STATION is a mobile copying station which – as it travels through suburban spaces – supports the free distribution music and audio. It is software as well as a local network. But above all BURN STATION is a social event which congregates people together to listen, select and copy net label and net radio audio files with a Copyleft Licence. BURN STATION is an open source and a non-commercial project involving the new means of free networked distribution. It is based on the BURN STATION software which was developed by Platoniq and Rama as a 100% Free software. BURN STATION aims to establish links between the media space and the physical space of the city.
Kick Ass Kung-Fu, Animaatiokone, 2005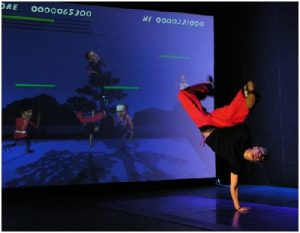 Kick Ass Kung-Fu is an immersive game installation that transforms computer gaming into a visual, physical performance like dance or gymnastics. You can fight and defy gravity like kung-fu movie actors – only there's no wires or post-production needed.
The game takes place on a 5 metre cushioned playmat suitable for martial arts and acrobatics training. Using custom computer vision technology, you are taken inside an artificial reality where the normal laws of physics no longer apply. You see yourself and the virtual enemies on the projected screens at each end of the playmat.
Your movements are exaggerated so that you run faster and jump higher. You can also wield any weapon, and pose and shout to supercharge yourself with chi energy. The number of simultaneous players is not limited, so invite your friends to join the oddly exhilarating mayhem against some of the world's most dangerous men.
Politics of play avec Amy Franceschini (Future Farmers) et Myriel Milicevic, 2006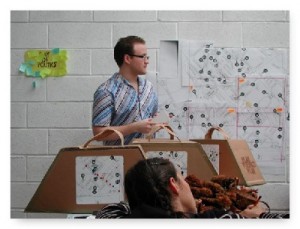 Social Park is a collaborative workshop that invites artists, sociologists, designers, gamedesigners, planners and all interested persons to participate in an expedition. The purpose of this course is to encourage and foster collaborative networks in the city through the medium of the game studio will take the form of an exchange of experience and collective learning. The workshop will be divided into three parts: research, experimentation and application.