Web Plasticiens – Centre Pompidou, Paris, 15 December 2005
A monthly event focused on the new forms of creation and images, organised by Géraldine Gomez, Cinemas of Tomorrow
Presentation by Isabelle Arvers of Fluxus online (International Film Festival on Internet), created by Francesca Azzi, director at "Zeta Films" in Brasil.
Screenings of short films, animation, experimental and documentary video selected in the 2005 edition.
The Web Plasticians are hosting the Brazilian festival Fluxus – an International film festival
on the internet – www.fluxusonline.com
Established in the year 2000 Fluxus radicalize contemporary cinema concept with a selection of microfilms, short films, digital video, animated films, net.art, videoblogs, videos made with phones or webcams and works of vidéodesign, to show the new possibilities for the language of moving image.
The festival definitely incorporates all the manufacturing processes forms: short movies cinema, portable cinema, intense abstract or poetic cinema of the interaction between technology and art of the web.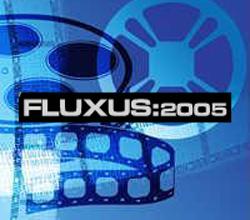 Créé en l'an 2000, Fluxus radicalise le concept contemporain de cinéma avec une sélection de microfilms, de films courts, de vidéo numérique, d'animations, de net.art, de vidéoblogs, de vidéos réalisées avec des portables ou des webcams et des oeuvres de vidéodesign, comme autant de possibilités nouvelles pour le langage de l'image en mouvement.
Le festival incorpore définitivement tous les procédés de fabrication de formes : le cinéma des films courts, le cinéma portatif, intense, abstrait ou poétique, le cinéma de l'interaction entre technologie et art du web.
Divisé en quatre catégories – E-cinema (fictions, vidéos expérimentales), Anémic (animations), doc (documentaires) et Interactifs (net-art et oeuvres
interactives) – Fluxus est un festival entièrement en ligne qui souhaite faire de l'Internet, outre un lieu d'exposition et de diffusion, un espace de confluence de tendances entre différents medias, supports et langues. L'objectif est de permettre l'accès du public à des réalisations du Brésil ou d'Amérique latine et du monde entier, pour voir et interagir avec des productions audiovisuelles d'auteurs indépendants à partir d'un ordinateur.
Pour célébrer son 5è anniversaire, le festival pionnier de l'Internet, inaugure un nouveau site où il est possible d'accéder de façon permanente aux 191 travaux sélectionnés par le festival durant chacune de ses éditions. Fluxus est dirigé par Francesca Azzi de la société de production Zéta Films.
Séance proposée et présentée par Isabelle Arvers, Commissaire d'Exposition indépendante et membre du jury du festival Fluxus en 2005. Derniers projets : co-commissaire avec Gisle Froysland de l'exposition " No Fun !games and the gaming experience ", Piksel Festival, Bergen, Norvège, oct 2005.
Programme
1 Living Canvas – Jimmy Chim (Canada, 2003, DV, 4min.) – animation abstraite
2 Digitalsnapshot – Lo Iacono (Allemagne, 2004, DV, 4min.) – docu-animation
3 Lapins (Nyulak) – Péter Csornay (Hongrie, 2004, Flash, 4min) – fiction-animation
4 Portraits consentis (Retratos Consentidos) – Ana Luísa Figueira Sales (Cuba, 2004, 16mm, 6min.) – documentaire
5 _grau – Robert Seidel (Allemagne, 2004, DV, 10min.) – vidéo expérimentale
6 Andromède – Carlos Magno (Brésil, 2005, DV, 6min) – vidéo expérimentale
7 L'été arrive (Indul a Nyar) – Hajnal Zoltan (Hongrie, Flash, 2004, 3min.) – fiction-animation
8 Pause_04 – Claudio and Gustavo Santos (Brésil, 2004, DV, 4min.) – vidéo expérimentale
9 BRTLD_bertoldo – Cristiano Trindade (Brésil, 2005, 5min.) – animation 10 Tomber – Johannes Burr (Allemagne, 2003, DV, 5min) – vidéo expérimentale
11 Liquidation (Opruiming) – Mannin de Wildt (Hollande, 2004, 16 mm, 11min.) – fiction
12 Somnambules – Pierre Wayser (France, 2003, Flash, 4min) – animation
13 Bains 1 (Banhos1) – Louise Ganz (Brésil, 2004, DV, 4min) – vidéo expérimentale
14 Venise – Haruo Ishii ( Japon, Super 8, 2004) – microfilm
15 22 22 – Udqem (Brésil, Divers medias, 5min) – vidéo expérimentale
16 Biographie du Temps (Biografia do Tempo) – Marcos Pimentel and Joana Oliveira (Brésil, 2004, 35mm, 8min.) – documentaire
17 Ballast – Ulrich Fischer (Suisse, 2004, Super 8, 2min.) – vidéo expérimentale
18 Studios Stop Motion – Series 13 – David Crawford (USA, divers medias, 2004, 7min.) – vidéo expérimentale