Web Plasticiens – Centre Pompidou, Paris, 16 June 2005
8 bit music, or "chip tunes", by the people who play and produce it.
Debate and live demo by Bubblyfish. With Teamtendo (FR), "T & J" du label Relax Beat (FR) et Bubblyfish (US). Event animated by Isabelle Arvers. 8 Bits music is " low tech " answer to electronic music. These new kind musicians diver the sounds of famous Nintendo games or computers like the Commodore 64 or Amiga to compose and perform pieces of electronic music.
Guest Artists: Teamtendo ( France ) / http://teamtendo.com/ Two forest animals armed with only gameboys , makes a dynamic hyper live with pure sounds of video games. This inventive duo even managed to dance , only to 8bit sounds ( music video games) and their two small machines. A live who willingly flirt with a punk spirit . " T & J " label Relaxbeat ( France ) / Growers http://www.relaxbeat.com/ managers Relaxbeat label Thierry Criscione and Jacques Santino conducted in 2003 8-bit compilation 3boy Playground "at the world-renowned success. They are also the directors and producers projects Malcolm McLaren . Bubbly Fish ( Korean based in New York ) / www.bubblyfish.com Based in NYC, Haeyoung Kim is both composer and sound engineer designeur . His work has been exhibited both in clubs ( * Remote Lounge NYC , Project 101 * Paris *) as festivals ( Ladyfest 2003 * Amsterdam Nights Sound 2004 * Lyon * ) and art exhibitions and galleries (The American Museum of the Moving Image , The Walter Reade Theater *)
La musique 8 Bits est la réponse « low tech » à la musique électronique. Ces musiciens d'un genre nouveau détournent les sons de la célèbre console de jeux Nintendo ou de micro-ordinateurs comme l'Amiga ou le Commodore 64, pour composer et interpréter des morceaux de musique électronique.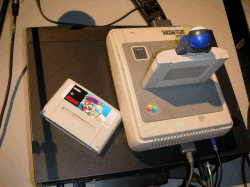 Artistes invités: TeamTendo (France) / Deux animaux de la forêt armés de leurs seuls gameboys, procède à un live hyper dynamique aux pures sonorités de jeux vidéo. Ce duo inventif parvient même à faire danser, aux seuls sons 8bits (musique de jeux vidéo) et de leurs deux petites machines. Un live qui flirte volontiers avec un certain esprit punk. « T & J » label Relaxbeat (France) / Producteurs managers du label Relaxbeat, Thierry Criscione et Jacques Santino ont réalisé en 2003 la compilation 8 bits 3boy Playground » au succès mondialement reconnu. Ils sont aussi les réalisateurs et les producteurs des projets de Malcolm Mac Laren. Bubbly Fish (Coréenne basée à New York) / Basée à NYC, Haeyoung Kim est à la fois compositeur, designeur et ingénieur son. Son travail a été présenté aussi bien dans des clubs (Remote Lounge *NYC, Project 101 * Paris*) que des festivals (Ladyfest 2003 * Amsterdam, Nuits Sonores 2004 * Lyon*) et dans des expositions d'art et des galeries (The Americain Museum of the Moving Image, The Walter Reade Theater*)