Turn around the Web – Centre Pompidou, Paris, 18 dec. 2003
Greece : Miltos Manetas introduce Neen
A monthly event focused on the web production of a country or a continent, organised by Géraldine Gomez, Cinemas of Tomorrow.
Miltos Manetas introduce Neen.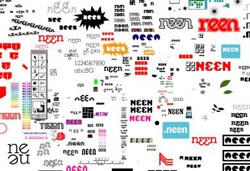 Press review (FR):
Un petit tour virtuel au pays de Socrate pour philosopher autour de la dernière déclaration « neen »: « les sites web sont aujourd'hui la forme d'art la plus radicale ». Miltos Manetas Artiste de renommée internationale, il est né en Grèce mais vit entre New York et Los Angeles. Connu pour son travail en vidéo, en peinture et pour ses performances liées aux jeux vidéo et à l'univers informatique, il crée aussi des sites web conçus comme des œuvres d'art. www.manetas.com/ Andreas Angelidakis «Neenstar », architecte pour «bots » (robots créés par des logiciels), il inaugure un nouveau type d'architecture qui accommode les humains à leurs machines (Neenworld, Mirrorsite…). www.angelidakis.com Angelo Plessas «Neenstar », web designer, il conçoit des sites à titre personnel et également pour les autres… www.angeloplessas.com/ Isabelle Arvers Commissaire d'exposition et conceptrice d'événements dans le domaine des nouveaux médias. Ses dernières réalisations : galerie de net.art sur www.villette-numerique.com et Playtime, la salle de jeux du festival Villette Numérique.