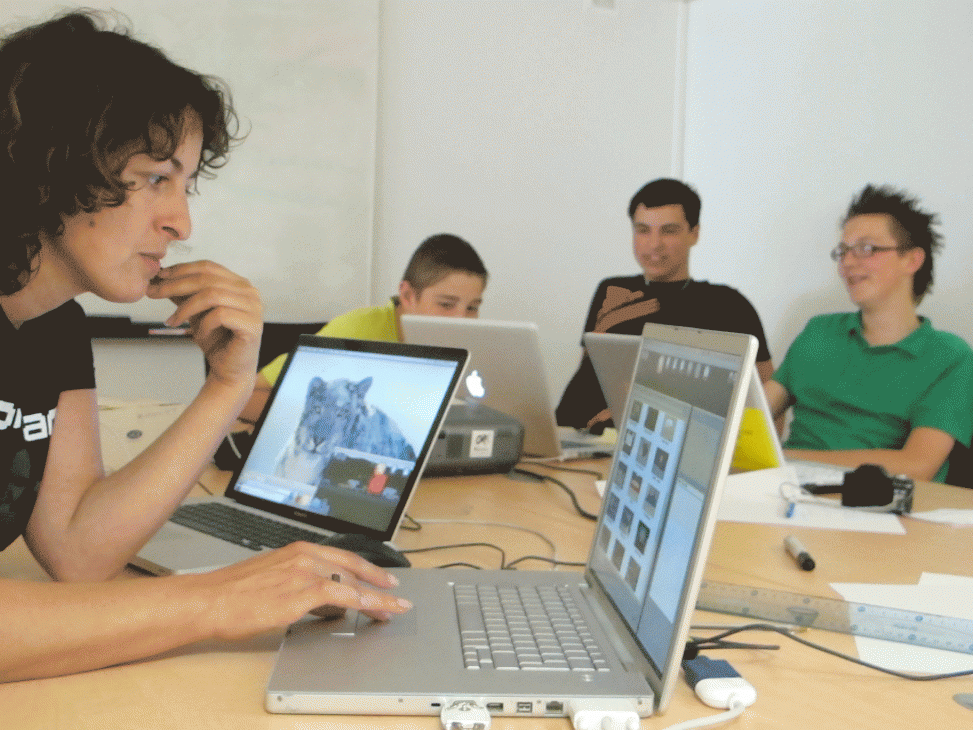 Les ateliers machinima visent à détourner un objet de consommation de masse et de divertissement en un outil de production de films et en un moyen d'expression. En fonction du lieu d'accueil et du type d'atelier, ces derniers sont animés par Isabelle Arvers et par des réalisateurs de machinimas : Benjamin Nuel, réalisateur de la série Hotel, All ut, administrateur du site internet The Movies et Moviestorm, David Vannier, du site Machinima.fr et Emmanuel Mayoud, médiateur numérique. Chaque étape de l'atelier peut permettre à chacun de s'insérer dans un processus de création : écriture de dialogues et de scènes, création de décors, de personnages, direction d'acteurs virtuels, montage vidéo, mixage sonore et mise en ligne du film réalisé sur une plate forme vidéo.
Scène créée par les jeunes organisateurs du festival "Grain à démoudre", Le Havre, 2011
Technique
Un machinima est un film conçu à partir de l'enregistrement de séquences audiovisuelles, produites lors de parties de jeu vidéo. Ces séquences de jeu sont capturées en temps réel grâce à un logiciel de capture vidéo externe ou intégré au jeu vidéo. Les séquences audiovisuelles ainsi obtenues sont alors montées à l'aide d'un logiciel de montage vidéo.
Pour faciliter la tenue d'ateliers en toutes circonstances, nous utilisons la plupart du temps un logiciel dédié à la conception de machinimas tel que Moviestorm ou Muvizu. Ainsi, même lors d'ateliers très courts en durée (3 heures minimum), il est possible de concevoir, tourner, monter et diffuser un petit film court.
Déroulé
– Découverte de l'histoire des machinimas, projection d'extraits de films et présentation des techniques employées dans la réalisation de chaque film
– Initiation à l'écriture de scénarii et de dialogues
– Conception des décors et des personnages
– Direction du jeu des "acteurs virtuels" : actions, déplacements, et enregistrement des dialogues
– Gestion des mouvements caméra
– Montage des séquences vidéo tournées, intégration des sons et de la musique
– Génération du film et mise en ligne sur une plateforme de vidéo en ligne.
Objectifs pédagogiques
– Sensibiliser les publics aux usages pédagogiques des médias : jeu vidéo, image, vidéo, son
– Assimiler, intégrer un outil (jeu vidéo) au profit d'une production culturelle innovante
– Éduquer les jeunes aux techniques d'écriture, de lecture, de réalisation et de montage
– Travailler sur une réappropriation ludique du premier bien culturel en France : le jeu vidéo
– Fédérer les dynamiques et potentiels individuels autour d'un parcours commun
– Développer un regard critique sur les médias.
---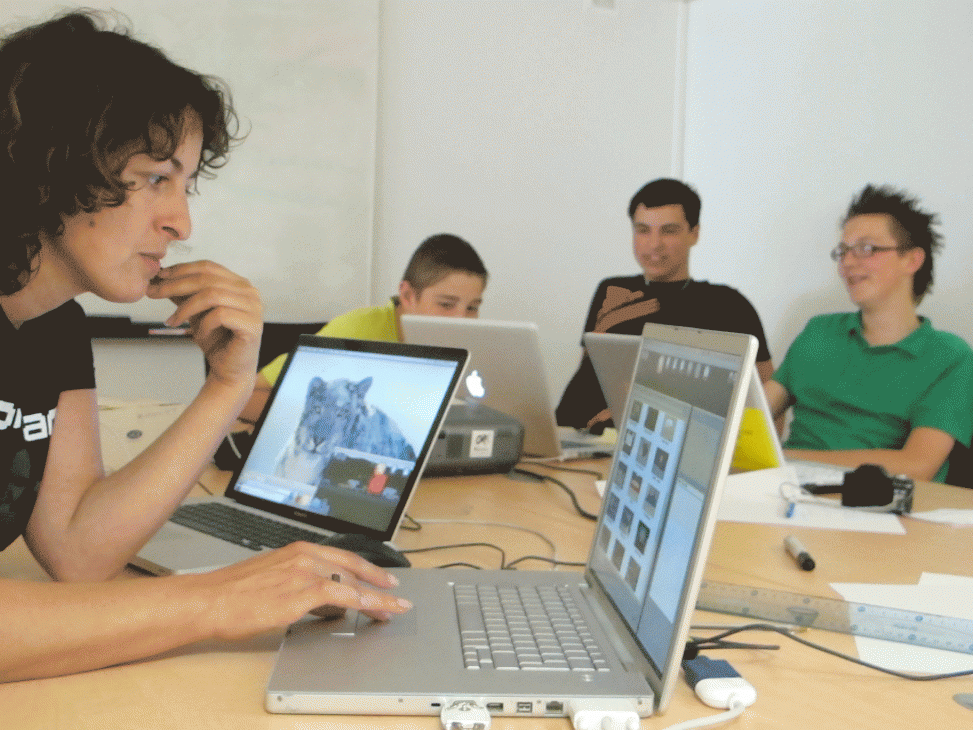 A machinima is a film made from the recording of audiovisual sequences, produced during video game play. The workshops aim to transform an object of mass consumption and entertainment in a means of film production and expression.
Depending on the venue and the type of workshop, the workshops are run by Isabelle Arvers and machnima directors.
Each step of the workshop can enable everyone to fit into a creative process: writing dialogue and scenes, set design, characters, direction of virtual actors, video editing, sound mixing and put online film made on a video platform.
Scène créée par les jeunes organisateurs du festival "Grain à démoudre", Le Havre, 2011 / Set designed by the young organizers of the festival "Grain à démoudre", Le Havre, 2011
Technical
A machinima is a film made from the recording of audiovisual sequences, produced during video game play. These playing sequences are captured in real time through a external (or in-game) video capture software. Then audiovisual sequences obtained are then assembled using a video editing software.
To facilitate workshops in all circumstances, we use, most of the time, a software dedicated to the machinima design as Moviestorm or Muvizu.
So even in very short workshops in duration (3 minimum hours), it is possible to conceive, shoot, edit and distribute a short film.
Schedule
– Discovery of machinima history, screening of film clips and explanation of technicals used for making each film.
– Introduction to screenplay and dialogues writing.
– Set Design and characters.
– Direction of the virtual actors actions, movements, and dialogues recording.
– Design of camera movements.
– Editing of footage shots, sound and music integration.
– Rending of film and upload on a video platform.
Educational objectives
– Public awareness on educational aspects of media: video game, image, video, sound, editing.
– Assimilate, integrate a tool (video game) in favor of an innovative cultural production.
– Educating young people in technical writing, reading, production and editing.
– Working on a playful reappropriation of the first cultural object: the video game.
– Working in a group for a better perception of collective life, relationships with others.
– Uniting the forces and individual potential around a common path.