La Villette Numérique, Paris, 2002
The idea behind Playtime – the gaming room is to contrast the low-tech aesthetics of the first gaming computers and consoles with high-tech broadcasting devices (screen-walls, interactive installations, giant broadcasting screens and online devices), to enable the public to appreciate the mind-boggling developments in graphics and the technology used in video and digital games over the last thirty years, while they are playing.
All the games, whether old or current, can be accessed and played by the public at all times, and are set up inside little cubicles, or in lounge areas. The public come across them as they come to obstacles created by a maze.
The area includes a retrospective of the first video games, computers and consoles, an exhibition of console, PC and networked video games, and games by digital artists (online, offline and interactive installations).
30 years of video games :
Retrospective of the first video games for computers, such as Pong and Space Invaders, the first consoles and the first computers, all in working order :
Computers : Apple1, Micral, Atari 1040 ST, Commodore 1664, Commodore 3032, Oric Atmos 1, Goupil G3, Amstrad 6128, Sinclair ZX Spectrum
Consoles : Pong, Atari 2600, Videopac, Nes, Megadrive, SNES, Saturne
On loan from Philippe Dubois, http:// www.mo5.com, CSI Halle aux Cuirs, Silicium, http://www.silicium.org
Video games of the third millennium :
Exhibition of video games on console, PC and network, presenting the latest advances in cinematics, graphics and gameplay, plus the new possibilities offered by the Internet.
Free play games: GTAIII/Rockstar, State of Emergency/Rockstar, Metal Gear Solid2/Konami, Dancing Stage Euromix/Konami, Anarchy online/Focus, Dark Age of Camelot/GOA.
Installation :
Article 30, Les Virtualistes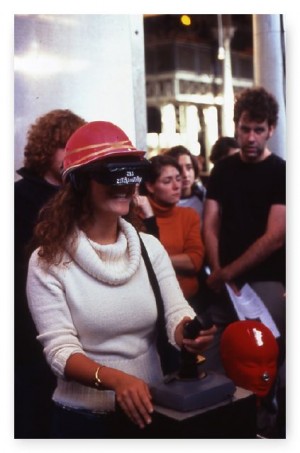 Virtual Reality installation by Les Virtualistes, artists, computer scientists and activists on the network, historically the first in France to be on the net. Article 30 is a converted game which uses a VR helmet and joystick, through which the user can interact with a maze of images of war and human suffering. "Article 30 asks whether there can be such a thing as "humanitarian war", the turn-of-the-century avatar of humanitarian action that totally contradicts article 30 of the Universal Declaration of Human Rights, which it claims to uphold" (Les Virtualistes).
Network Performance :
Miltos Manetas is an artist who has been interested in games for over 10 years. For Villette Numérique a network performance will be organised between La Villette and Los Angeles, consisting of a mix/live performance (by the artist) of animations produced by the young artists of EO (Electronicorphanage), which will take over the computers in the gaming room and will be directed at the audience at the "electronic nights" events through avatars. Performance shown on a large screen.
Video projection :
Plug & Play
A video loop taken from a music and video performance by Invader (FR) and the British DJ Andrew Sharpley. Images of aeroplanes and George Bush, interspersed with space invaders and voices encouraging the viewer to play and applaud, etc. This video poses the ultimate question of the game in these days of the information society, which is turning our world into one huge video game.
Games on CD-ROM :
Neoangin: by the German artist Jim Avignon, painter and DJ.
Borderland: Game by Laurent Hart, created from videos filmed in Paris and the inner suburbs.
Artists' Web sites :
Sissyfight 2000, Eric Zimmermann, 2000
Network games created by Eric Zimmerman, American artist and game designer. With cartoon-like graphics and "real kool" content, sissyfight is an "intense war between a bunch of girls who are all out to ruin each other's popularity and self-esteem". Players can also chat to each other.
http://www.sissyfight.com
Honey Lover, collectif Saasfee, 2000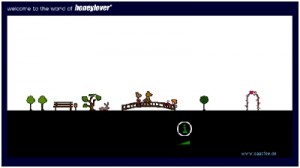 Created by Saasfee, a German group uniting web designers, graphic artists, set designers and musicians, HoneyLover is an allegory for gallantry since the little bear only wins the day if he is really, really nice with the Dame…
http://www.arosa2000.com/home/honey/
The Intruder, Natalie Bookchin, 1999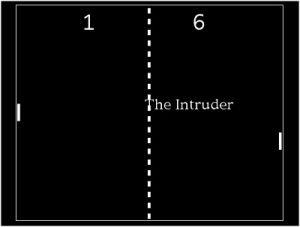 Based on the Pong Game, Natalie Bookchin, a American new medias artists and professor at the California Institute for the Arts, has reworked the Borges texts with most entertaining results.
http://www.calarts.edu/ bookchin/intruder/fast/html/a_title.html
Praystation, Joshua Davis, 2000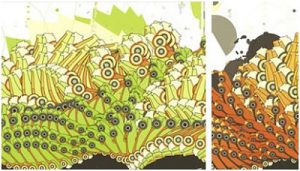 Sound games and poetic ramblings on the possibilities of the Internet as seen through the eyes and ears of artist and programmer Joshua Davis.
http://www.praystation.com
eBoy, eBoy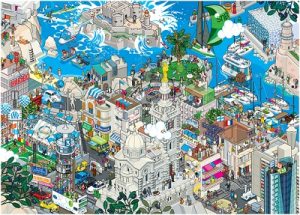 Group of German and American artists whose site and artwork use the pixel-based science fiction content of the first video games.
Untitled-game, JODI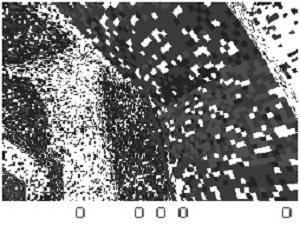 Quake hacked by JODI for a B&W website
http://untitled-game.org
Guerillanews Network, GNN, 2002