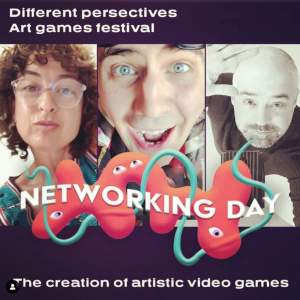 Political Games with a Decolonial Perspective Speaker: Isabelle Arvers (FR)
Isabelle Arvers is a French artist and curator whose research focuses on the interaction between art and video games. For the past twenty years, she has been investigating the artistic, ethical, and critical implications of digital gaming. Her work explores the creative potential of hacking video games through the practice of machinima. As a curator, she focuses on video games as a new language and as an expressive medium for artists. In 2019, she embarked on an art and games world tour in non western countries to promote the notion of diversity of gender, sexuality and geographic origin, focusing on queer, feminist, and decolonial practices.
The Different Perspectives Networking Day stimulates cross-fertilisation between different sectors and is a meeting place for individuals and studios with professional experience in making and developing video games, with a passion for society, culture and/or art on the one hand and local professional artists, in the broad sense of the term, independent of discipline, who want to embrace the interactivity of game technology in order to reshape the social themes and stories that drive them.
On this networking day, we present 3 international speakers with relevant experience in the overlapping field of culture, arts, games and an info session on relevant support initiatives.
There will also be a speed-pitch round, a networking lunch, and participants will have access to the Relive exhibition.