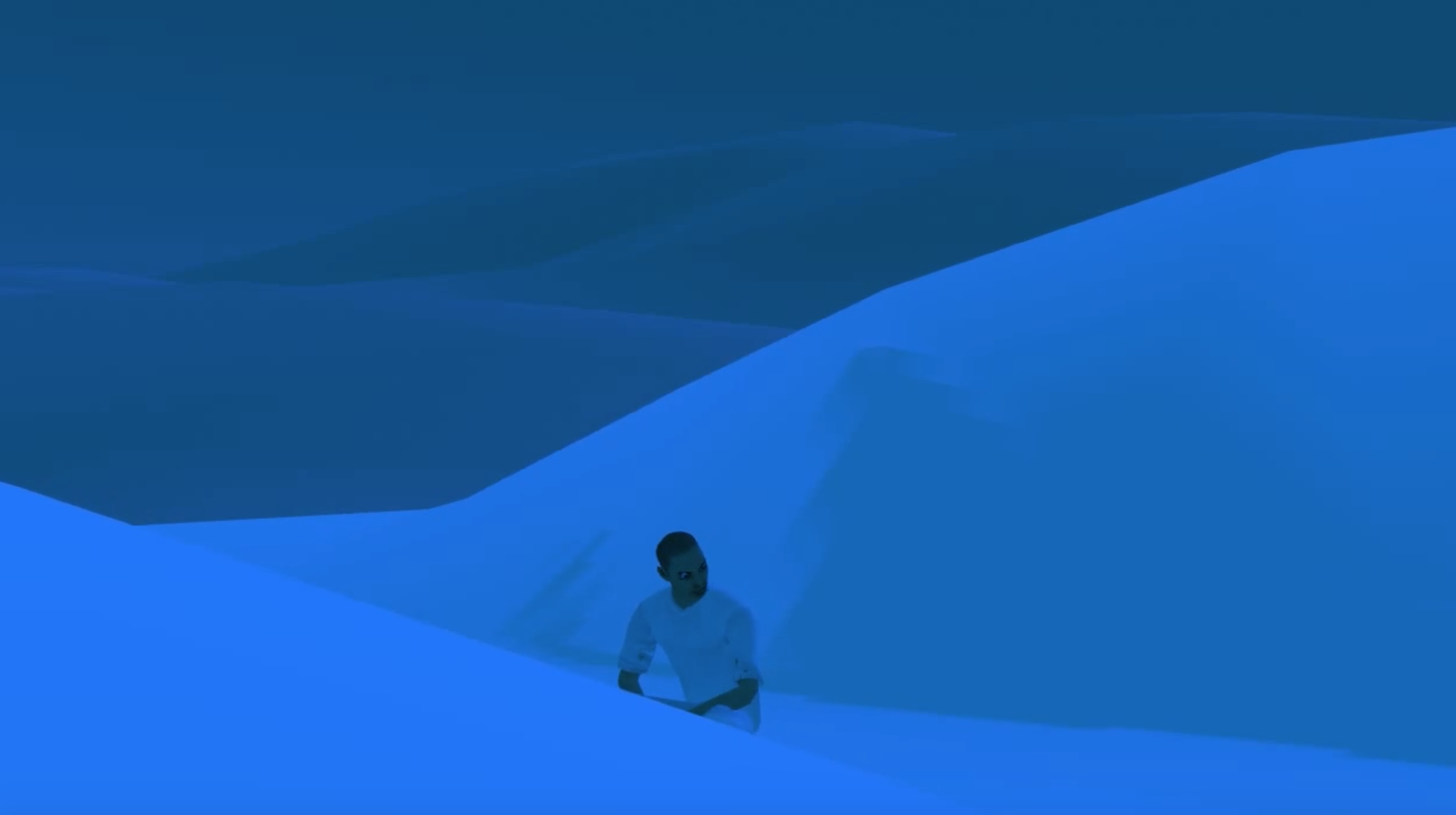 The very close link between image and music is designed to create an immersive and contemplative experience in a hybrid form of a virtual space to be inhabited in real space. Each sound, each rhythm is represented visually by the use of a game engine and allows the audience to physically experience the notions of splitting, distance, wandering, otherness, and being to things. The form then evolves in a space of no man's land, accompanied by the music of Steve Reich, John Cage and Arvo Pärt.
Cross by was born from the meeting of Isabelle Arvers and Nathalie Négro during an artistic residency in Nord Pas de Calais. From the mutual discovery of their universes, crossings quickly took place, between piano and video game. The work of Isabelle Arvers, a specialist in machinima, is interested in their spatialization and hybridization with other artistic forms: music, painting, sculpture, in situ installation, displacement of perspectives, interactivity. For several years, the work of Nathalie Négro – pianist – has been crossed by the exploration of the repetition of musical motifs. As an extension of this research, she returns to a more restricted form around Steve Reich's emblematic piece Piano phase which is the center of gravity of this show.
Cross by is an exploration of what Piano Phase can arouse in its interpretation: a feeling of doubling, a duality between inside and outside, the complexity of the face to face, an almost spiritual introspection, but also the approach of trance through melodic and rhythmic power. The interpretation of Piano phase, close to the performance, physical and intellectual, where the notion of endurance is very present. Visually this translates into visions of wandering, of perpetual advance, of surpassing oneself, in labyrinthine, mountainous, lunar, desert or aquatic spaces. Cross by tells the story of a man's journey from afar in a quest for self-realization.
The iterative process of the work imposes a listening between observation and letting go, installing an undefined floating relationship to time. It is precisely this abstract space, sometimes destabilizing, that interests us. The passage between the meditative and the ecstatic is represented by the music of Arvo Pärt and John Cage. The sound spatialization allows the public to live completely the sensation of musical and visual immersion.
Création 2016 – 2017
Spectacle musical et immersif
Piano et jeu vidéo
Nathalie Négro, pianiste, et Isabelle Arvers, vidéaste, proposent, sous forme de performance, la rencontre inédite de l'univers des jeux vidéo avec les musiques de Steve Reich, John Cage et Arvo Pärt.

Cette créa­tion s'appuie sur la ren­contre entre musi­ques répé­ti­tive et mini­ma­liste et machi­nima (films réa­li­sés avec des jeux vidéo), et croise séquen­ces de jeux vidéo pré­mon­tées, cap­ta­tions vidéo en temps réel, musi­que, per­for­mance inte­rac­tive et ins­tal­la­tion visuelle et sonore.
---
Voir le dossier de présentation
---
Le lien très étroit entre image et musi­que est pensé pour créer une expé­rience immer­sive et contem­pla­tive dans une une forme hybride d'un espace vir­tuel à habi­ter dans l'espace réel. Chaque son, chaque rythme est repré­senté visuel­le­ment par l'uti­li­sa­tion d'un moteur de jeu. et permet au public d'expé­ri­men­ter phy­si­que­ment les notions de dédou­ble­ment, d'éloignement, d'errance, d'alté­rité, et d'être aux choses. La forme évolue ensuite dans un espace de no man's land, accom­pa­gné par les musi­ques de Steve Reich, John Cage et Arvo Pärt.
Cross by est né de la ren­contre d'Isabelle Arvers et de Nathalie Négro lors d'une rési­dence artis­ti­que dans le Nord Pas de Calais. De la décou­verte mutuelle de leurs uni­vers, des croi­se­ments se sont rapi­de­ment opérés, entre piano et jeu vidéo. Le tra­vail d'Isabelle Arvers, spé­cia­liste des machi­nima, s'inté­resse à leur mise en espace et à l'hybri­da­tion avec d'autres formes artis­ti­ques : la musi­que, la pein­ture, la sculp­ture, l'ins­tal­la­tion in situ, le dépla­ce­ment de pers­pec­ti­ves, l'inte­rac­ti­vité. Depuis quel­ques années, le tra­vail de Nathalie Négro – pia­niste – est tra­versé par l'explo­ra­tion de la répé­ti­tion des motifs musi­caux. Dans le pro­lon­ge­ment de cette recher­che, elle revient à une forme plus res­ser­rée autour de la pièce emblé­ma­ti­que de Steve Reich Piano phase qui est le centre de gra­vité de ce spec­ta­cle.
Cross by est une explo­ra­tion de ce que Piano Phase peut sus­ci­ter dans son inter­pré­ta­tion : un sen­ti­ment de dédou­ble­ment, une dua­lité entre inté­rieur et exté­rieur, la com­plexité du face à face, une intros­pec­tion quasi spi­ri­tuelle, mais aussi l'appro­che de la transe par la puis­sance mélo­di­que et ryth­mi­que. L'inter­pré­ta­tion de Piano phase, proche de la per­for­mance, phy­si­que et intel­lec­tuelle, où la notion d'endu­rance est très pré­sente. Visuellement cela se tra­duit par des visions d'errance, d'avan­cée per­pé­tuelle, de dépas­se­ment de soi, dans des espa­ces laby­rin­thi­ques, mon­ta­gneux, lunai­res, déser­ti­ques ou aqua­ti­ques. Cross by raconte la tra­ver­sée d'un homme venu de loin dans une quête de réa­li­sa­tion de lui-même.
Le pro­ces­sus ité­ra­tif de l'œuvre impose une écoute entre obser­va­tion et lâcher prise, ins­tal­lant un rap­port flot­tant non défini au temps. C'est pré­ci­sé­ment cet espace abs­trait, par­fois dés­ta­bi­li­sant, qui nous inté­resse. Le pas­sage entre le médi­ta­tif et l'exta­ti­que est repré­senté par les musi­ques d'Arvo Pärt et de John Cage. La spa­tia­li­sa­tion sonore permet au public de vivre com­plè­te­ment la sen­sa­tion d'immer­sion musi­cale et visuelle.
Nathalie Négro et Isabelle Arvers
Bray-Dunes mai 2016
Co-direction artistique : Nathalie Négro & Isabelle Arvers
Piano : Nathalie Négro
Jeu vidéo : Isabelle Arvers
Création vidéo : Renaud Vercey
Réalisateur sonore : Olivier Stalla
Création lumière : Sarah Marcotte
Un projet porté par PianoAndCo
Co-produit par :
Le théâtre des Salins, scène nationale de Martigues
Le Bateau Feu, scène nationale de Dunkerque
Le 3bisF, lieu d'arts contemporains d'Aix en Provence
Avec le soutien de Kareron, structure de diffusion et de production de digital art

Voir l'interview vidéo d'Isabelle Arvers et Nathalie Négro sur Maritima.info