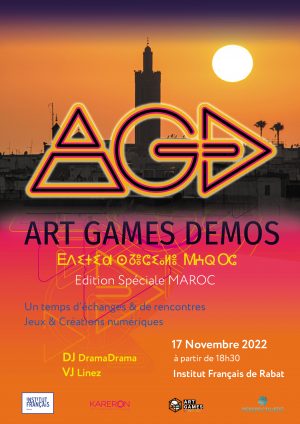 Art Games Demos is an event imagined by Isabelle Arvers and Chloé Desmoineaux, dedicated to the exhibition of video works and the demonstration of video games. Invited by the French Institute of Rabat for a new step of the Art and Games World Tour, we have the chance to organise a special edition of AGD in Morocco, with the support of Mouad Meziaty from the French Institute and Khalil Arafan, winner of the Lab Digital Morocco and video game developer.
Art Games Demos is a moment of exchange and sharing and demonstrations of digital works or games, which aims to meet the art and video game communities in an informal atmosphere around a buffet. As Chloe and I gave workshops to art and digital students in Tetouan at INBA or in Casblanca to ENSAD and ARTCOM students, some of the projects presented wull be the outcome of these workshops.
With a DJ Set by DJ DramaDrama and VJ Set by Linez from 6:30pm
Art Games Demos édition spéciale Maroc c'est ce soir à l'Institut Français de Rabat avec des présentations de jeux et d'oeuvres numériques, dont certaines réalisées pendant les ateliers machinimas menés au Digital Lab des Beaux Arts de Tétouan et au Fablab de l'IF Casablanca avec les étudiant.e.s de l'ENSAD et ARTCOM Casablanca.
Pour cette soirée, nous rendrons hommage à Claude Chuzel que nous avons souvent exposée lors des précédents Art Games Demos avec la projection d'une oeuvre que Claude avait réalisée à Marrakech, plein d'amour!
19h – Présentation AGD
19h15
Boo Project
Houssam Elghallal
Safae Ibenjellal
Malak Temsamani
Jeu Unity + video
19h30
The Untold Legend of Chamaroch
Khalid Mergousse
19h45
Cuts
Houda Benyoussef
Présentation d'un projet de jeu.
20h00
Kandisha
Sidi Monkey – Mounir ALAMI
Présentation du studio et du jeu
20h15
Mikaël Layoura
Directeur du digital Lab à Tétouan
20h30
Troisieme chambre
David Rodriguez
Présentation de studio
20h45
Salma Bahlaouane
Vidéo extrait 3D / Pièce immersive
21H
Khalil Arafan
Birds Spotting
Jeu vidéo
Diffusion de vidéos
CLIP
The way to heaven
Sirane Mohamed Kawtar Joudar (ENSAD)
1min27
Class2223
Salma Bahlaouane
3min05
Code: L.0.L_S.O.S.
Mikael Layoura
3min
Sans titre
Ilyas El Battahi
Gif animé + animation
19 seconde
Lost
Faadwa Elhadi et Younes Asri (ENSAD)
2min 11
Sphere Music Based Audio Visualizer
Sofyane Hajoubi
29 seconde
ESPACE VIDEO : Atelier machinima INBA Tetouan
The Way-back
Soufiane Zian
Machinima
4min19
Aïcha Kandisha
Chourouk Nafi Abdelhadi Ait Brahim
Machinima video clip
3min09
Boo Project
Houssam Elghallal, Safae Ibenjellal, Malak Temsamani
Machinima
3min04
Sanctimius realization
Sekkat Othman
Machinima
4min07
The three mokteers
Hasna El Bourzgui, Badr Benfanich, Redouan Cherrat
1min36
Espace vidéo Livre
Claude Chuzel
Le temps retrouvé
17min40