From ancestral knowledge to digital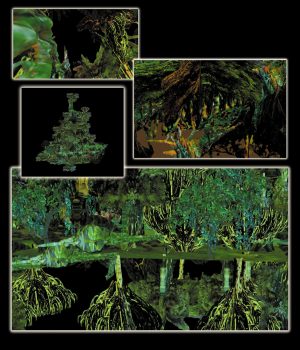 The global games market is still dominated by Europe, the United States and Japan.The exhibition "Aux futurs ancestraux" adopts a decolonial perspective on art and games in order to echo works conceived on the periphery of this global and globalizing culture. "Aux futurs ancestraux" immerses us in other types of representations, cities, landscapes, narratives and cosmogonies, conceived and expressed in other languages, and seeks to decolonize our imaginary through the co-construction of narratives born of the encounter between oral tradition, endogenous knowledge and the virtual universes of video games.
This necessary dialogue between these different modes of knowledge requires a paradigm shift. Science and human thought are no longer the only sources of knowledge; it is now possible to think of knowledge "beyond the human" (Eduardo Kohn). "This implies that nature thinks, that animals think, and that non-humans can teach us techniques and knowledge, by changing our perspective. (Viveiro de Castro).
Between photo installations, drawing, performance, video installations, immersive, interactive and video game, an exhibition that invites us to reconnect with what connects us to our ancestral futures: the living.
—————————————————————————————————
Des savoirs ancestraux au numérique
Le marché mondial des jeux est encore dominé par l'Europe, les États-Unis et le Japon.
L'exposition « Aux futurs ancestraux » adopte une perspective décoloniale sur l'art et les jeux afin de se faire écho d'œuvres conçues à la périphérie de cette culture globale et globalisante .`Aux futurs ancestraux nous immerge dans d'autres types de représentations, villes, paysages, récits et cosmogonies, conçus et exprimés dans d'autres langues, et cherche à décoloniser notre imaginaire par la co-construction de récits nés de la rencontre entre tradition orale, savoirs endogènes et univers virtuels des jeux vidéo.
Ce dialogue nécessaire entre ces différents modes de connaissance, nécessite un changement de paradigme. La science et la pensée humaine ne sont plus les seules sources de connaissances ; il est désormais possible de penser à des connaissances "au-delà de l'humain" (Eduardo Kohn). " Cela implique que la nature pense, que les animaux pensent, et que les non-humains peuvent nous enseigner des techniques et des connaissances, en changeant de perspective. (Viveiro de Castro).
Entre installations photo, dessin, performance, installations vidéo, immersives, interactives et jeu vidéo, une exposition qui nous invite à nous reconnecter à ce qui nous relie à nos futurs ancestraux : le vivant.
Artistes :
High in the Sky and Beneath the Stars, Laura Palavecino, (AR), installation interactive
Laidaxai, Daniela Fernandez, (AR) jeu vidéo
Paramo, Eulalia De Valdenebro Cajiao, (CO), Installation Photos et Dessins
Water Divinity, Henri Tauliaut (Martinique), Jeu Vidéo
Atuel, Matajuegos, (ARG), Jeu Vidéo
Coca para comer, Aniara Rodado, (CO), Installation, Performance
Epiculus Garden, Tania Fraga, (BR), Installation Vidéo
Infinitree, Mbaye Camara (SN) & Isabelle Arvers (FR), Machinima
Commissariat : Isabelle Arvers
ACTIVITÉS AUTOUR DE L'EXPO :
Mercredi 25 janvier à 18 h 30 :
Performance d'un artiste de l'exposition lors du vernissage + Hors d'œuvre avec la maison de quartier Théodore-Monod.
Samedi 28 janvier à 11 h :
Table-ronde autour de la décolonisation du numérique avec Isabelle Arvers et une artiste de l'exposition.
Mercredi 1er février à 14 h 30 :
Rendez-vous pour les enseignants.
Mercredi 8 mars de 14 h 30 à 16 h 30 :
Atelier montage vidéo avec son téléphone portable.
Inscriptions auprès du service Arts visuels
AVEC LE CENTRE SOCIAL DU PONT DU ROUTOIR,
Samedi 28 janvier à partir de 14 h 30 :
Atelier de création d'une exposition virtuelle à partir des œuvres de l'artothèque avec Isabelle Arvers.
Inscriptions auprès du Centre social du Pont du Routoir.
À LA MAISON DE QUARTIER THÉODORE-MONOD
Courant février 2023 :
Atelier Hybridation
Tarifs et réservations au 01 30 44 38 54
VERNISSAGE :
mercredi 25 janvier à 18 h 30
En partenariat avec le Musée de la ville,
la médiathèque Jean-Rousselot.