Festival Miségli : ateliers de contes virtuels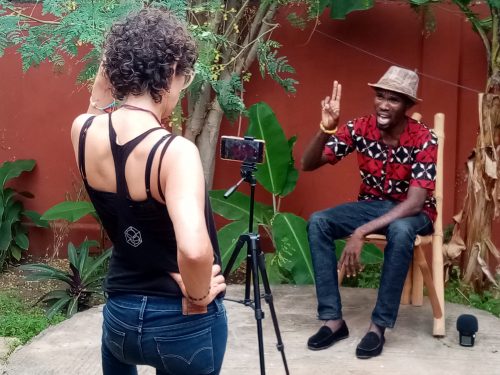 Dans le cadre d'une édition 2020 du festival Miségli entièrement digitale, découvrez le fruit de la collaboration des conteur.se.s togolais.es. et de la mémoire virtuelle de l'art vivant togolais, le projet KanTaTa.
Ce projet a été initié lors du hackathon #TousContreCorona, lui-même à l'initiative de citoyens, porté par le Gouvernement Togolais et appuyé par la Coopération Allemande par la mise en œuvre de la GIZ.
Durant deux semaines, grâce à l'appui de l'Institut Français du Togo, les conteur.se.s ainsi que le dessinateur Kofatil Adja ont décidé de challenger leur métier par le virtuel sous la direction de Hodin Senyon Photography, de la pionnière francaise du film machinima Isabelle Arvers et du réalisateur M. Victor.
Extrait de conte machinima : " Le devin " de Joseph Koffi Bessan

Bienvenue dans l'univers du conte virtuel togolais avec une restitution virtuelle entre podcasts, films machinima, contes et jeux vidéo !
Extrait de conte machinima : " L'aigle et le vautour " de Charlotte Boane
Festival Miségli: virtual storytelling workshops
As part of the 2020 edition of the Miségli festival, entirely digital, discover the fruit of the collaboration of the Togolese storytellers and the virtual memory of Togolese living art, the KanTaTa project.
This project was initiated during the hackathon #TousContreCorona, itself a citizen's initiative, carried by the Togolese Government and supported by the German Cooperation through the implementation of the GIZ.
For two weeks, thanks to the support of the French Institute of Togo, the storytellers and the cartoonist Kofatil Adja decided to challenge their profession through the virtual under the direction of Hodin Senyon Photography, the French pioneer of the film machinima Isabelle Arvers and the director Mr. Victor.
Welcome to the universe of the Togolese virtual tale with a virtual restitution between podcasts, machinima films, tales and video games!